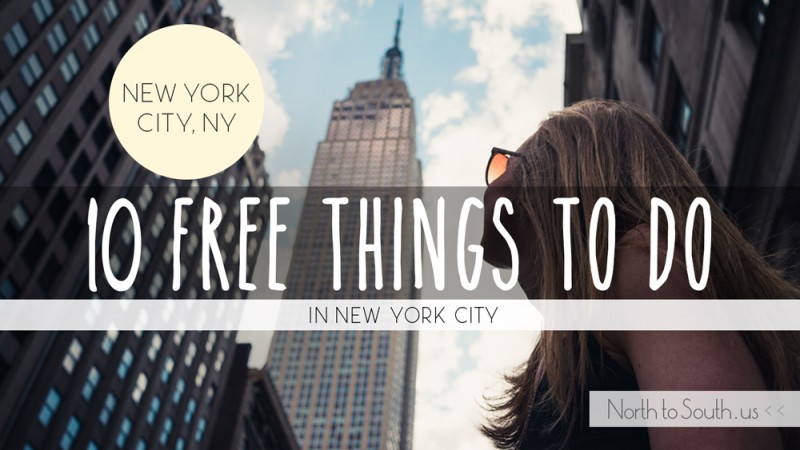 Want to experience New York City but don't want to blow all your savings in the process?
It may surprise you, but it IS possible. In fact, Ian and I took a budget trip to the Big Apple earlier this month, and we proved there are plenty of interesting, fun, and cool things to do without spending a dime!
We occasionally splurged on some necessary evils (Shake Shack burgers, ice cream, gourmet pizza… to name a few), but overall we spent surprisingly little on tourist activities in New York.
Here are 10 of our favorites from the trip: 
1. See Lady Liberty from Battery Park
You don't have to spend money to get a decent view of the Statue of Liberty.
Sure, you could get up at the crack of dawn to get tickets to go inside, wait around for almost an hour in the hot sun to board the ferry, and then spend the rest of your afternoon packed in with a bunch of smelly tourists just to get one close-up shot of Lady Liberty. Or you could skip all that and just enjoy the breezy view from Battery Park instead. We chose the latter option.
Note: If, once you're there, lines happen to be short and the ferries appear to be uncrowded, you can look into buying a ticket then ($18 ferry ride, $3 to go inside).
2. Take in the Best NYC Skyline View at Brooklyn Bridge Park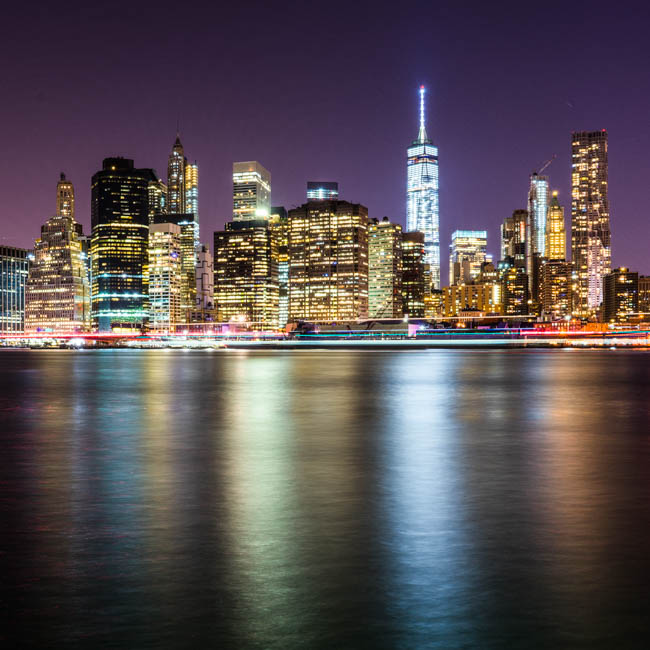 By FAR one of my favorite things we did in New York City was to go to Brooklyn Bridge Park.
There's a lot going on there: busy basketball courts, people roaming around the walkways, expensive restaurants, delicious burgers (I highly recommend eating Shake Shack at least once)… but the best thing to DO there is to just take in the view. And maybe pull out your camera. Ian got some awesome long exposure shots of the NYC skyline at night using his Sony a7II, neutral density filter, and tripod.
3. Visit Times Square
Let me start by saying that Times Square is kind of a dangerous place.
Not from a crime standpoint (the city in general is actually an impressively safe place, considering its size and population density), but what I mean to say is it's a great place for running into and tripping over people. Everyone walks around here awestruck — eyes glued to anything and everything EXCEPT for what's in front of them. (There's a LOT to see.) But don't worry. This problem is easily remedied. Just watch where you're going and move out of the heavily trafficked areas when you want to look around and take pictures.
4. Peruse the Galleries at The Met (Metropolitan Museum of Art) for 1¢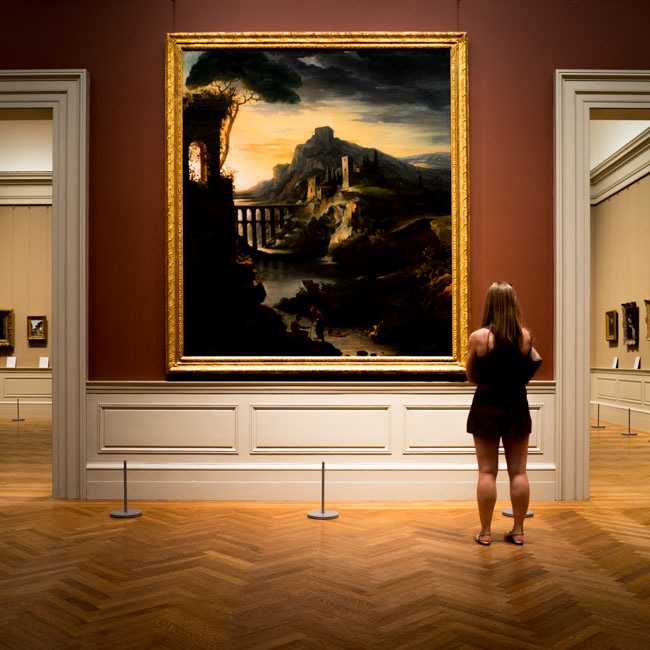 "Your total is $37, but you don't have to pay that if you don't want to."
Excuse me, what? Apparently The Met is a pay-what-you-want attraction. They have 'recommended' admission fees, and okay, so it's not QUITE free, but you can opt to pay as little as a penny if you want. Just tell them what you want to pay when you buy your ticket at the counter. Since we're not museum-going types and figured we'd likely only want to spend about an hour there, we paid $20 total for both tickets. But you can absolutely pay whatever you feel like. They won't lay a guilt trip on you or anything. And bonus: Admission also includes entrance to The Cloisters.
Note: In hindsight, I wish we'd paid less, since the museum is supposed to be a free attraction anyway, due to long-standing agreements between the city and the museum. (The museum is partially subsidized by city funds and leases its building from the city for free, and quite a bit of controversy has arisen over the fact that The Met has even a 'recommended' price.) We had no idea about all of the hullabaloo around the admission fees when we entered, so we were forced to make a snap decision, but now YOU can visit fully informed!
5. Go for a Walk on the Upper East Side
If you're doing New York "right," then pizza, burgers and hot dogs certainly won't have you feeling your healthiest.
Remedy that by taking a walk. Anytime other than high noon is a great time for walking the streets of NYC, since the buildings will provide ample shade on at least one side. We went for a walk around the Upper East Side after visiting The Met. With fewer cars and tourists crowding in and around this area, it made for a more pleasant walk than other city neighborhoods. Of course Central Park is a lovely place to walk, too.
6. Visit the 9/11 Memorial (One World Trade Center)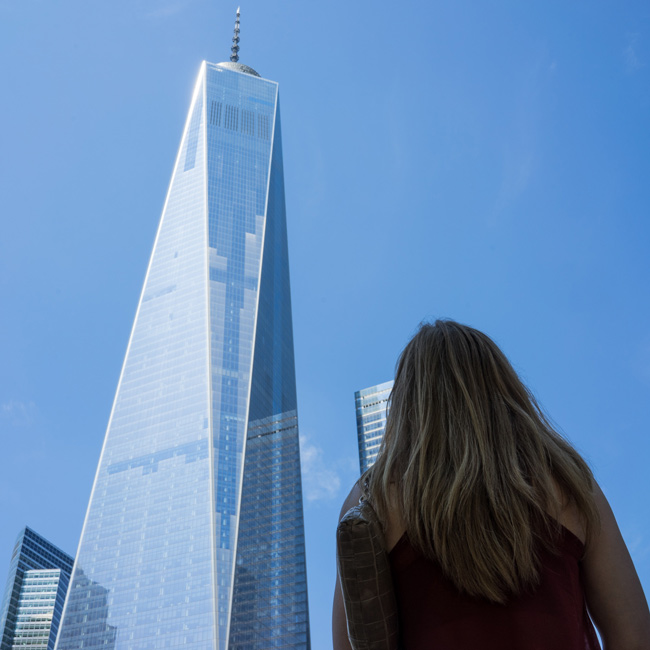 The 9/11 memorial was an unexpectedly eery place.
I didn't even know about the two matching fountains ('pools') that were constructed where the Twin Towers previously stood, but they are SERIOUSLY cool. They're so massive and the hole in the center of each is so large that they appear to be bottomless pits of water, flowing straight down to the center of the Earth. And being here forces you to reflect on this utterly crappy time in U.S. history. I was in St. Louis at the time, so New York felt pretty far away. But being at the memorial had me imagining what it would have been like to actually BE in the city that day, and thinking about that was unsettling, to say the least.
Photos don't do the fountains justice. Go see them for yourself.
7. Hang Out in Central Park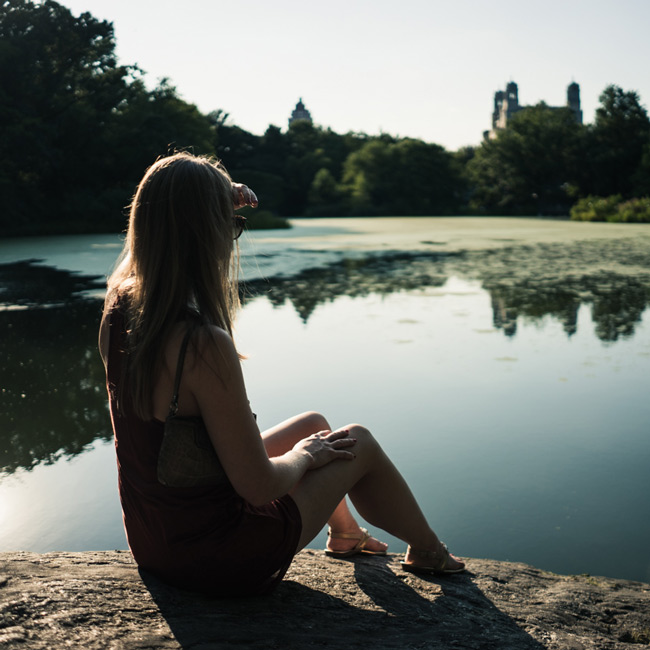 Locals lay out blankets to spend the day here, and if you've got time for that, I highly recommend it.
Central Park is an awesome oasis in the middle of this bustling island city. It's also HUGE, so we didn't see all of it. But a few intriguing things I saw included (1) a gourmet waffle stand, (2) a live action-theater with free performances (sold out when we were there, so we didn't see the inside), and (3) Turtle Pond (pictured above). We actually saw turtles swimming in the pond, too!
Perhaps the greatest thing about this park is it's never really too far away. Whenever you're ready for a break from the busy city, just head inland to Central Park!
8. Visit Photographer's Heaven (a.k.a. B&H Photo)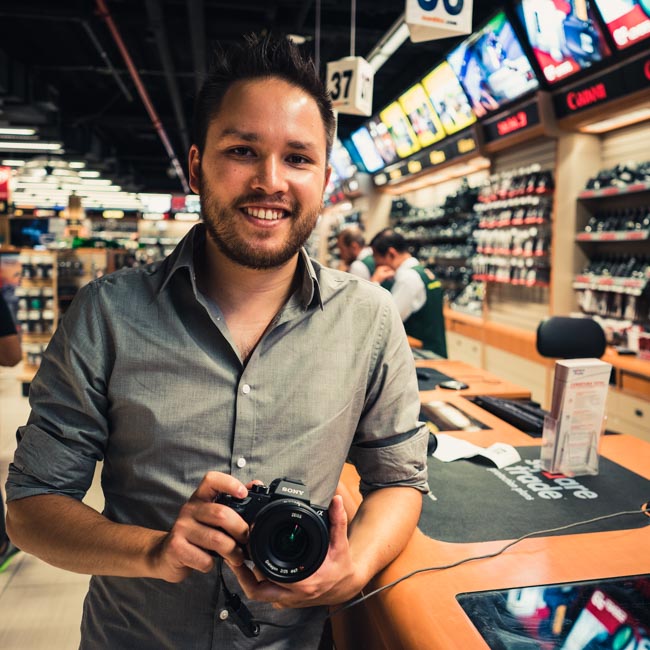 The B&H Superstore was one of few destinations on our list of musts for NYC.
Ian has been a B&H affiliate for almost two years now (with our photography websites Lonely Speck and The Photon Collective), so we were lucky enough to get treated to a private tour (Thanks, Izzy!) Even if you're not a camera geek, there's probably something here that will spark your interest. I was mesmerized by the 3D printers and got a kick out of their audio room (though I'm sure my dad would have enjoyed that 10x more). And Ian, well, he was like a little kid in a candy store — they LITERALLY have candy there, by the way — spending over an hour trying out the new Sony a7RII along with several lenses (the Zeiss Batis 25mm/2 being the favorite of the day). When a few days had passed after our first visit, we went back for a second round.
9. Gaze Up at All of the Famous Skyscrapers
We already covered One World Trade Center in #6, but there are plenty of other quite famous skyscrapers to feast your eyes on in NYC.
To name a few: the Empire State Building, Chrysler Building, 40 Wall Street, and 432 Park Avenue … also worth checking out is the Flatiron Building, and some less exciting buildings (in my opinion), include Bank of America Tower, the New York Times Building and One57. Check out this handy Wikipedia article to decide which New York City skyscrapers you'd like to see!
10. Take a Selfie at Grand Central Station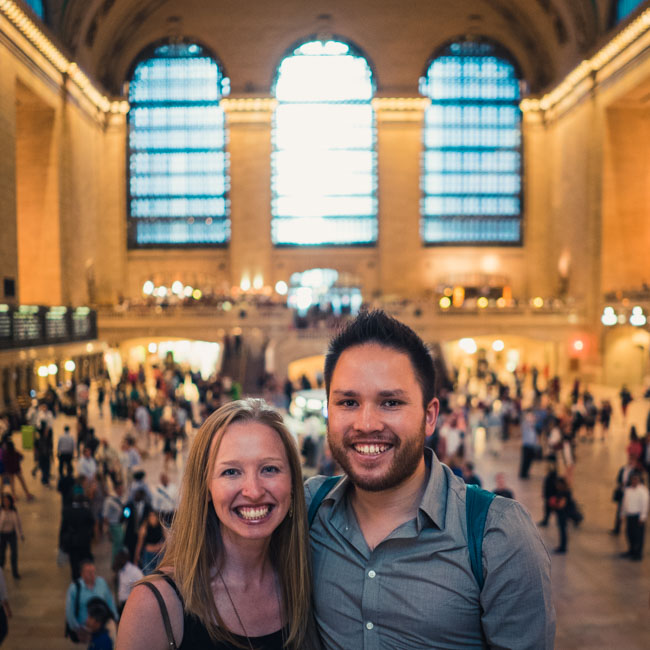 New York subway stations don't get any better than this.
If it's the only station you set foot in on your trip, you honestly won't be too impressed by Grand Central Station. But if you've been moving about NYC all week by subway and then finally stop here, you'll appreciate it a lot more. Bring your selfie stick along to snap a selfie on the stairs, or ask another tourist to take one for you (there should be plenty around).
---
Have you been to New York City? Did I miss any awesome free activities, or do you perhaps have an even more awesome paid activity to recommend? Let us know in the comments!