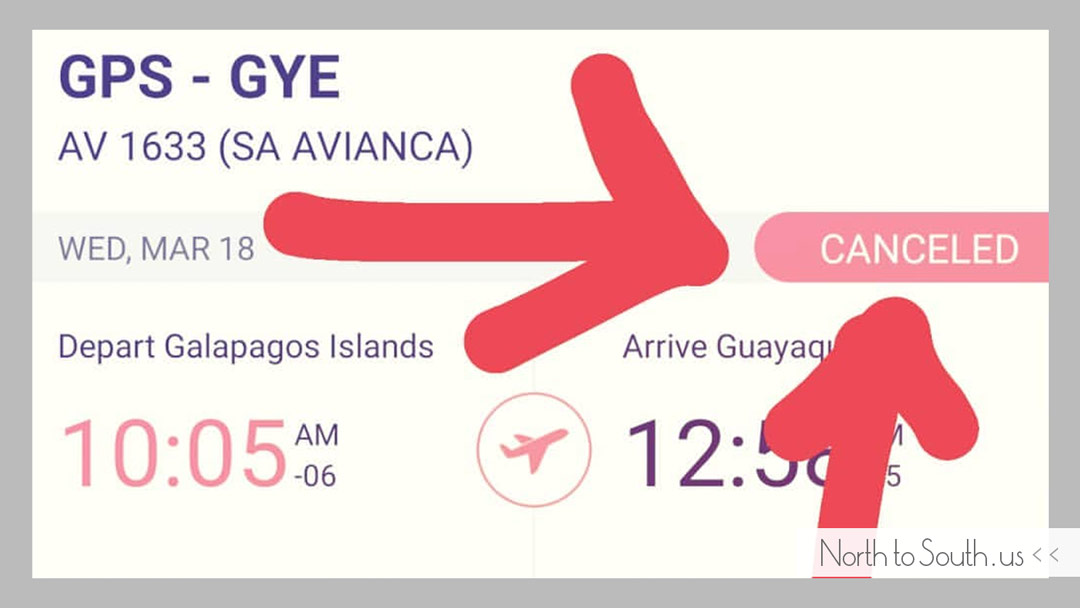 What happens if you're traveling abroad during a pandemic?
Early this month, our friends Sha and Joe arrived in the Galápagos Islands. Ian and I had just left Ecuador ourselves, and we knew they were in for an exciting wildlife trip — but when borders started closing worldwide due to the rapid international spread of coronavirus, getting back to the U.S. became a journey of its own for them — and it's not over yet. Here's what's happening:
The Government of Ecuador has prohibited all foreigners and Ecuadorians from arriving via air, land, or sea. As of March 17, Ecuador has also prohibited domestic passenger flights and restricted entry to the Galapagos Islands. At this time, we understand these restrictions are scheduled to be in place until April 5.

https://ec.usembassy.gov/covid-19-information-ecu-2/
For Sha and Joe, it started when Ecuador's president announced the closure of Isabela Island (where they were at the time) for all non-residents. It was time for them to leave, but ferries off the island were scarce and flights from the Islands back to mainland Ecuador were getting canceled.
Our friends managed to book ferry tickets for the last available slot before the 12pm shutdown of Isabela Island, which got them to Santa Cruz / Baltra (where the main airport of the Galápagos Islands is located).
Read the official facts and status on travel to/from/within Ecuador for U.S. citizens during the COVID-19 outbreak from the U.S. Embassy in Ecuador.
They boarded their ferry on Isabela and left cell service with fingers crossed, but when their boat arrived on Santa Cruz the status of their Avianca flight had changed to "canceled."
The next morning, rumor had it that one flight would be departing for the mainland that day. Could it be?
When they finally reached the airport counter, there was good news and bad news. All original flights to Guayaquil had been canceled. Avianca had therefore canceled their flight, but they'd created a new flight to Quito — in a region with fewer cases of COVID-19 — and Sha and Joe were close enough to the front of the line to get on the flight.
There was one big problem: in order to get back to the U.S., they needed to get to Guayaquil. Their commercial flight to the U.S. departed from Guayaquil the next day, and charter flights were available to the U.S. from Guayaquil, but they'd miss both opportunities because they simply couldn't get there. (At this point, they'd also learned there was no inter-provincial transportation allowed in mainland Ecuador.)
At the time of this writing, the next available flights from Quito to the U.S. are scheduled for April, and that's assuming travel bans aren't extended.
At least they would get back to mainland Ecuador.
Now our friends have begun a waiting game. They're staying at a hotel near the airport in hopes of an announcement of a flight back to the U.S., but time will tell how soon that will be possible.
They also met with other Americans stuck in the same situation to strategize what to do.
For now, they're staying positive and doing what they can to get home.
UPDATE: They're Back!
Sha and Joe flew back to the U.S. from Quito on Sunday, March 22, as a result of a coordinated effort between the Ecuadorian government and the U.S. Embassy.
COVID-19 Pandemic Facts and Resources
United States
CDC: Coronavirus Disease 2019 (COVID-19) Cases in U.S.
U.S. Embassy and Consulate in Ecuador COVID-19 Information
Ecuador
MSP: Actualización de casos de coronavirus en Ecuador (Coronavirus Update in Ecuador — Spanish)
Global
WHO: Coronavirus disease (COVID-19) outbreak
WHO: Coronavirus / COVID-19 Q&A
WHO: Coronavirus disease (COVID-2019) situation reports
Joint ICAO-WHO Statement on COVID-19
WHO Director-General's opening remarks at the media briefing on COVID-19 – 11 March 2020