Baltra or San Cristóbal… That is the question, and it really depends on what your plans are and what you want to get out of your Galápagos Island trip.
After doing a little research before our trip to the Islands this year, we decided to fly into and out of San Cristóbal. We island-hopped by ferry for our Galápagos Island adventure, and I was very happy we chose San Cristóbal as our jumping off point for our self-planned trip. But there are good reasons to fly into Baltra as well.
Not sure which to choose for your trip? Below is some information that should help you decide.
Flying into Baltra Island
Quick Facts
Airport code: GPS
Location: ~1 hour to Puerto Ayora (Santa Cruz Island) by combination of shuttle, ferry, and bus or taxi
Baltra or "Seymour" is a very popular airport choice for flights into the Islands, because many cruises set sail from Baltra, and there are many hotel and guesthouse options on the most densely populated Galápagos Island of Santa Cruz (the island immediately to the south of Baltra).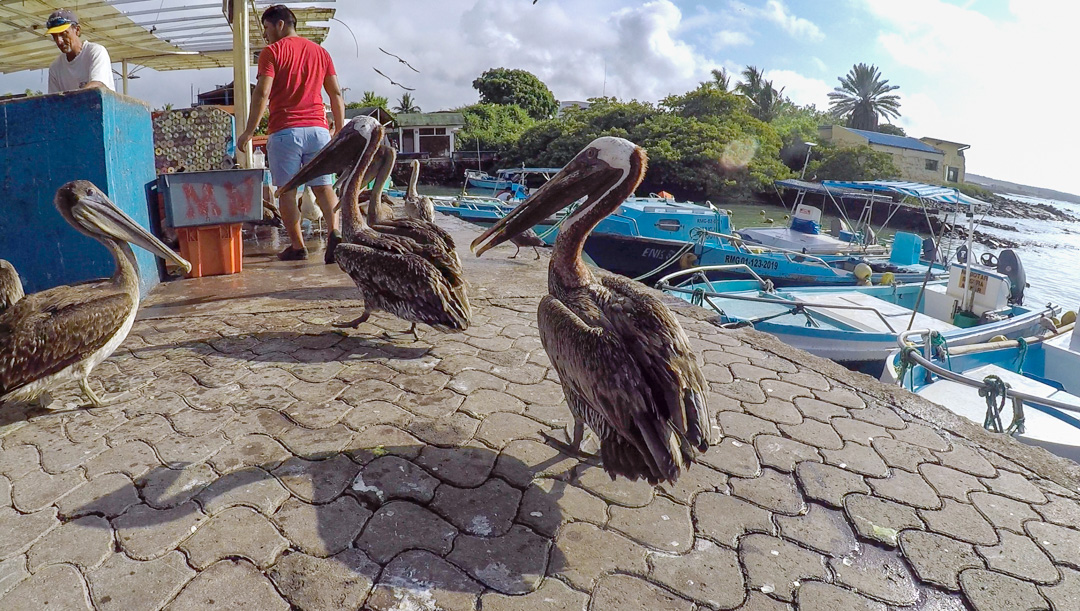 Reasons to choose Baltra/Santa Cruz:
There are more people and fellow travelers to meet and talk to
If you prefer a bigger town with more trendy food options, shops, etc. and a slightly more modern island experience (with prices to match). The WiFi is a bit more dependable on Santa Cruz, too.
If you're taking a cruise that departs from either Puerto Ayora on Santa Cruz or from the dock on Baltra Island (near the airport).
If it's more affordable than the flight to San Cristóbal (Be sure to factor in the cost of the transfer to accommodations, which will be higher on Santa Cruz.)
If you only have a few days to spend on the Islands, you want to stay on Isabela (the large island to the west), and you don't want to or don't have time to visit San Cristóbal
If you only have a few days to spend on the Islands and most of the things you want to do and see are on or depart from Santa Cruz (some highlights: Bartolome Island, North Seymour Island, snorkeling at Las Grietas, swimming and beach walking at Tortuga Bay)
A few things to keep in mind for flying into Baltra
The flight into Baltra/Santa Cruz is usually more expensive because the island is physically further from the mainland than San Cristóbal.
The airport is also further from town (you have to cross the Itabaca Channel to get to Santa Cruz), so it's more costly in time and money to reach your accommodations.
From the airport, you'll need to take a combination of airport shuttle bus, boat, and either a taxi or public bus to reach the main city/port town of Puerto Ayora, where most accommodations are located and where the inter-island ferries depart from.
Lastly, there are more accommodation options on Santa Cruz, but the value for money felt much lower to me here than on San Cristóbal.
If you're not on a budget and have money to stay at a nice resort on Santa Cruz, you can certainly find a lovely place to stay there, especially on the south side of the bay, which is reachable by water taxi, and conveniently located with easy access to the 'Las Grietas' snorkeling area and 'Playa de las Alemanes' beach. If you're planning a budget trip, however, San Cristóbal may be your better option, as you'll likely prefer what you can get for your money there.
Flying into San Cristóbal
Quick Facts
Airport code: SCY
Location: 3 minutes to the center of Puerto Baquerizo Moreno (San Cristóbal Island) by taxi (or a 10-minute walk)
San Cristóbal is a great option for many reasons, especially if you are planning your own island-hopping trip in the Galápagos. I was even happier with our choice to fly both into and out of San Cristóbal after arriving and seeing the pace of each Island and how they all operate.
Seeing wildlife on San Cristóbal feels effortless, and there are many fantastic day tour options on this island.
Reasons to choose San Cristóbal:
There's more wildlife immediately surrounding the public beach areas and fewer people living on the island to disturb it
If you don't have a really good reason to fly into Santa Cruz and you want to visit multiple islands
If you want a more relaxing airport and transfer experience (The SCY airport is smaller, and since the airport is located in the main town of Puerto Baquerizo Moreno, you can actually walk between the airport and the town center. Taxis are extremely cheap, too, and can get you to town in about 3-5 minutes.)
If you want a quieter introduction to life on the Islands, with a more natural, relaxed and less touristy town experience and a ton of wildlife to easily see from the shore/port (sea lions, marine iguanas, Sally lightfoot crabs, finches and other Galápagan birds, and even sea turtles)
If seeing and snorkeling at the iconic Kicker Rock is on your list (one of the best places to see hammerhead sharks in the Galápagos)
If visiting Punta Pitt is on your list (red footed boobies)
If you want to visit the uninhabited island of Española to see the Christmas iguanas, blue footed boobies, etc. (This was Ian's favorite tour of our whole trip.)
A few things to keep in mind for flying into San Cristóbal
If your time on the islands is limited, this will make your decision harder. San Cristóbal is the furthest east of the inhabited islands. If you want to go to and stay on Isabela (the furthest west island), it will require two ferry trips: one in the morning to Santa Cruz and one in the afternoon from Santa Cruz to Isabela. We did this one day, and it worked out fine with our schedule, but if you're more pressed for time, be sure to factor in inter-island transportation when you're planning your tour itinerary and flights.
Things to keep in mind either way
It takes about two hours by ferry to go between each of the inhabited islands. The price is the same — $30 — for all of the ferries.
Inter-island flights are available, and might be a great option for you if you're not on a limited budget.
All of the islands have high quality day tours available with unique wildlife spotting opportunities, so you will see amazing stuff no matter what you choose.
Just because you're flying into an island doesn't mean you have to stay there awhile. Depending on your flight schedule, you may have to stay at least one night, but there are morning and afternoon ferries daily between the 3 main inhabited islands.
Flights to the Islands originate from Guayaquil — GYE — or Quito — UIO. You must have your return flight booked when you enter the Islands, so make sure you're carrying proof of your return flight with you when you arrive.
You could book your inbound flight to one island and your outbound flight from the other, if it fits your itinerary better.
Be sure to purchase your $20 transit control card before you enter security for your flight to the Islands, and be ready to pay your $100 National Park entry fee at your arrival airport in cash.
My Thoughts and Summary
Both islands have their advantages, but I would choose to fly into San Cristóbal again in a heartbeat, especially for any self-planned trip.
We went to the Galápagos to see wildlife, and the pace of life and setup of San Cristóbal was a much better match for what we wanted in a wildlife trip. Adding in the proximity of the airport to town and the lower prices, it really feels like a no brainer to choose San Cristóbal — unless, of course any of the reasons that I listed above for choosing Baltra apply to you, like a cruise or a particular resort drawing you in. (I have to admit, the National Geographic Finch Bay resort on Santa Cruz looked pretty amazing.)
Let us know what you decide for your flights into and out of the Galápagos, and what factors weighed into your decision in the comments!