If there's one thing we learned about the weather in the Galápagos, it's that the sun is very hot along the equator!
We weren't fully prepared when we arrived on the Islands, so we had to shop for some items there. Here we're sharing our detailed packing list for the Galápagos so you'll be ready for your trip!
How to Plan for the the Galápagos Islands' Seasons and Weather
There are two distinct seasons on the Galápagos Islands (according to various source on the Interwebs). A quick Google will tell you that from December to May it's hot and cloudy with occasional rain, and from June to November it's sunny and mostly dry.
These seasons will affect what wildlife you encounter and how rough the ocean is, but the way you pack really won't change, as temperatures are similar year-round.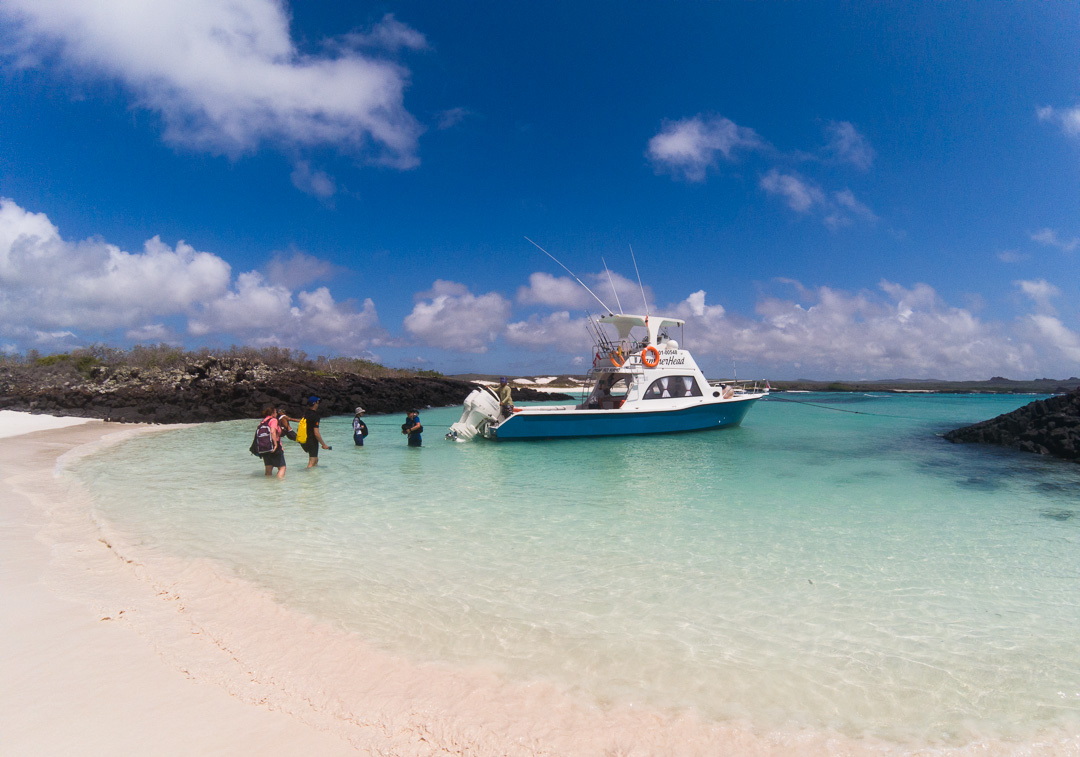 Checking the weather forecast for the Galápagos Islands, you may see rain or thunderstorms predicted for most of your trip, but that's actually pretty unlikely. During our February trip we experienced plentiful heat and partly cloudy skies and a lot less rain and thunderstorms than forecast. (It only rained for one or two daytime hours during our entire 12-day trip.) In short, you should plan to encounter some rain on your trip, but don't expect it to be as frequent as weather reports suggest. We recommend packing for mostly sunny weather with the chance of an occasional downpour.
Sun protection is necessary for every season. Being burnt when you've got a tight wetsuit to squeeze into and a snorkel mask to suction onto your face is no fun!
If you're traveling during the popular hot and wet season, clouds will provide occasional relief from the sun, but cloudy days in Ecuador can leave your skin red and toasty, too. If you're traveling during the dry season, you can expect even more sun.
The bottom line: sun protection in the Galápagos is the most important essential, so many items on our list will address that!
What to Pack: Galápagos Islands Packing List
When packing for your Galápagos trip, you should prioritize items that protect you from the sun while keeping you cool.
Here's our list of 22 essentials to pack for your trip to the Galápagos Islands:
(Click on a link to read more, or scroll down for our detailed list.)
Detailed Packing List
Why you need it and how to choose each item
Swim Shirt, Sun Shirt or Rashguard

This is the single most important thing you can pack for the Galápagos.
I didn't pack one, but after our first boat tour on our first day, it was clearly an essential, especially if you are fair-skinned, prone to burning, or just hate applying and reapplying sunscreen. I bought mine on the Islands for $25, but it took a lot of searching to find a decent quality shirt that fit me, was lightweight, and wasn't an awful color. Buy one in advance to save time and money. I recommend one that is lightweight, long-sleeved, hooded, and a light color if available. When you get hot during the day, just pour water directly on your shirt to stay cool for awhile!
Tip: Bring two so one can dry out while you wear the other.
Hat or Cap
My hat became an extension of my head during our entire Galápagos adventure.
Pack one that you don't mind getting both saltwater on and faded by the sun. The only time I didn't have my hat on was when we were snorkeling, and I immediately got burnt on my forehead, thanks to my SPF 50 sunscreen that checked many boxes except the most important one, which brings me to my next essential:
Waterproof Sunscreen Lotion
We packed two small containers of nice Neutrogena SPF 50 sunscreen and quickly discovered their inadequacy when we went swimming/snorkeling on our tour the first day and all got burnt, despite applying before and after our snorkel time. If you buy sunscreen online, remember the TSA's 3 oz limit, skip the spray versions as they aren't carry-on friendly, and be sure to check the expiration date (sunscreen usually expires after about two years). You can buy sunscreen on the Islands, too, if you don't want to pack it. Just find a pharmacy — "Cruz Azul" is common there — and look for the words 'impermeable' or 'a prueba de agua' (waterproof) or at the very least 'resistente al agua' (water resistant).
Polarized Sunglasses
You'll be able to spot things under the water from land better with polarized lenses. These helped us see sharks and sea turtles below the surface that others in our group weren't able to see!
Swimsuit
Swimming costume, trunks, 'cozzie' — whatever you call it — Don't forget to pack it for your trip to the Islands. There are endless swimming and snorkeling opportunities in the Galápagos, including some free ones, so you'll need to pack a swim suit to enjoy them.
Athletic Shorts or Skirt
Quick-dry shorts will come in handy for walking around on hot days in the Galápagos. For the ladies, you could also get away with some sort of lightweight wrap to wear over your swimsuit, or an athletic skirt if you prefer.
As mentioned in the photo above, running shorts double nicely as swim attire. I always travel with my Nike shorts for hot-weather trips, and Ian travels with his Patagonia shorts.
Lightweight Pants
I know pants sound like a terrible idea in a hot climate, but the right kind of pants are actually better than shorts, especially for any land excursions you go on searching for wildlife.
We recommend pants that are built for the outdoors, lightweight, quick drying, and a light color if possible. Convertible style pants can come in handy, if you can find a style you like. (This is something I've always struggled with, but I do really love REI's Kornati roll-up pants; they don't convert fully to shorts, but they have snapping straps at the bottom that allow you to expose your ankles and let some breeze in, plus they are comfy and cute enough for wearing on flights and are handy when a chilly breeze blows through.)
Hiking or Active Shoes
Almost every tour on the Galápagos Islands includes a walking or hiking portion. The ease of walking on the terrain varies depending on the exact tour and which island you're hiking on. You will likely encounter times when you are walking on uneven, sharp, and sometimes loose or slippery rocks, so you need to plan according to your comfort level.
Choose something close-toed and quick to dry. Regardless of the exact active shoe you pack, if you're packing light you should plan to wear these on the plane and on inter-island transit days to save space in your bag.
My shoe recommendations depend on the individual person. A few key things to keep in mind:
If you're active and do a lot of hiking, you can get away with a simple running shoe that you don't mind occasionally getting sand or salt water inside. Bring something that will dry out fast if you get it wet. You could opt for a water hiking shoe (women's / mens) if it has good grip on the bottom and is comfortable for walking on land without getting blisters. Some people wear Keens, Tevas or sandals with straps, but I think something without openings on the side is a better all-around choice because sand will get inside of them and scratch your skin.
If you're less active or have weak ankles, you should consider packing a hiking boot with ankle support. You can bring trekking poles if you want to be extra safe, but these won't be necessary for most people.
Sandals/Flip Flops
You'll be doing plenty of walking on the beach, so a simple pair of flip flops or sandals will come in handy. We like flip flops because they're lightweight and easier to pack.
Bandana
Something to protect your neck from the sun is very important in Ecuador, and bandanas are particularly nice because they're so easy to pack. They're sold on the islands and make a useful souvenir, or you can bring your own from home. You can use it several ways; either tuck it under your hat to protect your neck and ears or roll it up and tie it around your neck.
I bought a cute bandana with a map of the Islands on it for $4, roll-folded it up, dipped it in water, and tied it around my neck to stay cool.
Sun Buff
UV Buffs are super handy for boat time in the Galápagos and are a great solution when you're tired of applying sunscreen or need extra sun protection. When the sun's out, you'll see loads of people wearing them, especially locals. They protect your neck from the sun, and you can roll them up over your nose and ears, too. They cost anywhere from $10 to $30 on the Islands, depending on materials and quality. (The more expensive ones are the actual Buff brand.) I recommend also checking what's on sale at REI before your trip.
Fanny Pack
Before our trip, Ian wasn't sure he needed one, but he was so happy he got one and wore it everywhere except in the ocean.
In my fanny pack I carried our passports, travel documents, memory cards, wipes, chapstick, eye drops, and cash (currency is the U.S. dollar in Ecuador), etc. — things you would carry in your purse but a bit more convenient having it strapped to your waste. Ian carried our GoPro, battery, memory cards, wallet, and sunscreen, and he clipped his DSLR to a PeakDesign camera clip attached to his fanny pack.
Reusable Water Bottle
Pack your Nalgene! Disposable plastic bottles are prohibited on the Islands. (You may still see some plastic bottles at convenience stores and restaurants in the Galápagos Islands, but in the spirit of saving the Earth, you should avoid these whenever possible.) The tap water is not safe to drink, but your hotel or guesthouse should provide jugs of filtered water either in your room or in a common reception area, so you can refill your reusable bottle as needed.
For added convenience, we purchased and shared a LifeStraw water bottle for our trip. That way we could fill it from any freshwater tap and safely drink filtered water throughout our trip. There are a variety of LifeStraw options at REI.
Rain Jacket or Poncho
I wore my rain jacket only once on the Islands. Unless you're planning to travel in mainland Ecuador on the same trip, you could go the emergency poncho route instead to save packing space.
Lightweight Day Pack
Having a small backpack to carry your daily items in can be very handy. We really only recommend the highly packable kind that squish down to a ridiculously small size when you're not using them. We have two that we really love. They've both been a great investment, both for travel and for use at home: Sea to Summit's Ultra-Sil Travel Day Pack and REI's Stuff Travel Pack.
Underwater Camera
If you want to take photos of underwater wildlife in the Galápagos, then a GoPro is perfect. It's super compact, easy to use, and offers a wide angle picture to capture both photos and videos in the outdoors — all things that make it great for traveling.
We like to keep ours in a protective housing to capture the sea life that hangs out a bit deeper, but if you're just snorkeling, the GoPro HERO8 Black itself is waterproof down to 10 meters.
Don't forget to pack extra GoPro memory cards!
Camera with Zoom
Throughout the entire Galápagos Islands, you're required to keep a minimum of 6 feet between you and wildlife — including cameras. You're also required to stay on designated paths on land, and you'll only spot some wildlife from a moving boat, so many wildlife photography opportunities will require a slightly more advanced camera setup.
Our quick and easy recommendation for a travel wildlife camera is the Sony RX100 VII, but there are plenty of other options, so we highly recommend reading our post about what camera gear to bring to the Galápagos Islands (coming soon!) to figure out what will work best for you, and don't forget to pack extra memory cards.
Dry Bag
You'll be on and off boats, walking on slippery docks and leaving your camera on the boat while snorkeling more times than you'll be able to count in the Galápagos. Assuming you'd be upset if your camera were to go for a swim, it's a good idea to store your camera in a dry bag whenever you're not using it.
If your camera is heavy and bulky, opt for a heavier duty nylon dry bag. If you have a lightweight camera setup, then a lightweight dry bag will be fine and easier to pack. Be sure to get one large enough to easily fit your camera inside (plus whatever else you want to keep ultra dry) with enough room to roll it for a secure seal. To get the size that you need right, you may want to shop for this in person at REI or order from a listing on Amazon that offers free return shipping. I highly recommend buying from a reputable brand — have a look at what brands are best reviewed at REI — since you'll be relying on it to protect your camera.
Dry Pouch or Heavy Duty Ziplock Bag
I used a heavy duty ziplock that fit in my fanny pack to organize and carry our passports, Galápagos transit cards, ferry tickets and memory cards for the entire trip. When I wasn't carrying them on me I could easily pop all of my small important items in the hotel safe. If your phone isn't waterproof, it may be nice to have one for your phone as well.
Though the pouch I used was technically waterproof, I mainly used it for organizational purposes. You can get away with a nice ziplock bag, but something that's made for heavier use might be better:
International SIM Card
WiFi is not very reliable in the Galápagos. (You can rely on it to get some basic stuff done, but don't expect to watch Netflix every night on your trip.) If you need connectivity, we highly recommend setting this up with your current cell provider or getting an international SIM card that will work in Ecuador for your trip.
We've been using Google Fi for a year now and highly recommend it for travel. We love it because you can seamlessly travel with cell service and data. It's contract free, and the fees aren't any different abroad than they would be at home. Many countries have towers that support Google Fi service, and Ecuador is one of them. Note that there are no cancellation fees, so if Google Fi is compatible with your phone, trying it is pretty risk-free!
Bug Repellent
Lastly, we recommend packing some travel-friendly bug repellent. You won't encounter bugs out on the water, but there may be some (not a ton of) mosquitos in the highlands, where you'll find the tortoises. (We've encountered much worse mosquito situations in the U.S. and Canada.)
We prefer bug repellent wipes over bug spray, but our favorite light-duty bug repellent is the bug band which requires no skin application at all. It's as simple as putting on a bracelet, and we found it worked perfectly adequately for the mosquitos we encountered on the Galápagos Islands. (We packed OFF! wipes, too, but didn't end up using them.) Note: If you'll also be traveling to the Amazon on your Ecuador trip, consider a heavier duty repellent.
Bank Cards and Cash
The U.S. dollar is used in Ecuador. You will save a LOT of money paying by cash instead of credit card, sometimes greater than 20%, and many times credit cards are not accepted at all. ATMs are available on the three major islands, and most have a $200 limit per transaction and a $600 limit per day.
We made it a habit to find each island's ATM(s) when we arrived and withdrew some cash. If you'll be paying for tours in cash, be sure to plan your cash withdrawals so you have enough to pay when you need to but you're not carrying too much at once (mostly in case you lose it — the Islands are safe). If you don't want to worry about the hassle (and if you don't speak much Spanish, which can make booking tours directly with tour operators a bit more challenging), there are travel agents who coordinate tours that accept PayPal (meaning you can pay with a credit card). Just know you'll be paying extra for the convenience — more than you would if you paid the tour operator directly in cash.
What Else?
That wraps up our list of essentials to pack for the Galápagos Islands. A few quick-dry shirts, several pairs of underwater, a couple pairs of socks, plus some small toiletries and medications just about rounded out our list, but we'll leave your personal essentials up to you. Here's a quick list of maybes:
Dramamine — if you have a tendency toward boat sickness
U.S. power adapter (if you're from Europe or somewhere else with a different power standard)
Extra bank card from a different bank — In case one doesn't work for withdrawing cash, it's handy to have two checking accounts at different banks as options.
Visa credit card (when credit card payments are an option, Visa is accepted more widely than others)
Also very important, we don't recommend packing the following:
snorkel or scuba gear (rent these items there / tour companies provide them)
wetsuit (tour companies should provide when needed — ask before you book)
towel (tour companies and many accommodations provide them)
tripod
selfie stick (this is more of a danger to wildlife as people can't resist getting too close with their cameras — which is against park rules)
laptop (it won't fit in hotel room safes, and WiFi isn't good enough for Netflix)
single-use plastics
too many clothes (We recommend buying a small amount of laundry detergent at a convenience store and sink-washing as needed.)
too many "what if" items (There are pharmacies on each island where you can purchase toiletry items if you run out or forget something, and there are plenty of stores that sell additional sun protection gear.)
Don't pack your bag so full that you don't have any room for some small souvenirs!
How to Pack Light for the Galápagos Islands and Why It's Important
Knowing what to pack for your trip means less shopping time required on the Islands and more time to explore and experience the Galápagos. Knowing what not to pack will help you keep your luggage light so you can hop on and off boats with ease. It will make the multiple legs of flights to get there much easier, too.
We covered what to pack and what to leave at home in the lists above, but now we quickly want to share why packing light for the Galápagos Islands is a good idea.
Packing light is especially important if you won't be aboard an overnight cruise ship your whole trip, and, like us, will be staying overnight on the islands. Transferring on and off ferries with a lot of luggage in the hot sun would be a nightmare. All of your bags need to be checked by Island authorities to make sure you aren't taking anything you shouldn't be to the next island. Two of the three most populated islands require a water taxi to transfer you from the ferry to the dock — an extra hassle if you're carrying and keeping track of a lot. You need your hands free to board boats without falling in the water. Yes, there will be boat staff that will help you with luggage and boarding, but they move quickly to maximize efficiency, and the way luggage is loaded on water taxis will have you wondering how often things fall in. In short, we really can't emphasize enough how much nicer your trip will be if you pack light!
So how do you pack light for the Galápagos Islands?
Luckily, warm weather destinations are easier to pack lighter for. Simply don't pack more than you need, and choose the items you do need wisely. (More on how to do that in my detailed packing list below!)
Pack it all up in a single standard-size backpack and bring along a small ultralight pack for daytime excursions, and keep your backpack organized with packing cubes.
If I can pack for an entire month in Ecuador — including cold weather destinations on the mainland — in a standard backpack with a large telephoto lens and camera inside, then you can, too. We believe in you! And I think you'll thank us for the recommendation when you're there.
We hope this packing list helps you prepare for your trip to the Galápagos Islands. Did we miss anything? Let us know in the comments.
*This post contains affiliate links. Thank you for supporting our site!
Keep Reading
Don't miss our other posts about the Galápagos Islands!