If you follow us on Instagram you already know, but for everyone else we've got big news.
A 2017 long-wheelbase high-roof Ford Transit van will be our new home on wheels for some road trip adventures in the new year!
After traveling almost exclusively by plane this past year, we decided it's time to try a new style of travel. If all goes according to plan, our new camper van will give us a refreshing change of pace, a chance to spend more time in the outdoors doing photography, a way to spend more time with our doggo, plus a fun project to work on together!
The plan is to have the van ready for summer travel, so we've already begun work on converting the interior into a homey little mobile oasis. When finished, we'll have everything we need to continue living the nomadic dream, road trip style!
A Camper Van with All the Bells and Whistles
Both Ian and I are pretty handy, so we'll be building out the van ourselves. We've designed our layout with a few priorities in mind:
maximum living space
comfortable workspace
views of the outdoors
all the basic amenities you'd find in a home
Squeezing a bed, kitchen, toilet, and shower inside a van may sound difficult, but we're up for the challenge!
An Overview of Our Plans
The Basics (Phase One)
Estimated Completion: March 2019
Bedroom
Our full-size bed will be lofted up in the back of the van to maximize floorspace for everything else we want to fit in the van. We'll have a few small cubbies on either side to tuck away things like cell phones and books.
With the help of our friend Jess, we've already welded a steel bed frame. It's mounted up and topped with a futon mattress for the time being.
This ladder, cut to a custom height, will get us up to the bed.
Kitchen
To create our kitchen, we've purchased and installed cabinets (two lowers and one upper) from Ikea's Sektion collection.
Natural ash (TORHAMN from Ikea) doors and drawer fronts, gray quartz countertops, and bronze/black pulls and faucet will give our kitchen a modern outdoorsy feel, and we'll have plenty of space for a sink, food prep, espresso machine, portable gas burner, compost container, and storage for things like water containers and cooking utensils.
We're considering completing our kitchen with a small low-power fridge, but this is pretty low-priority and we'll come back to it later if at all.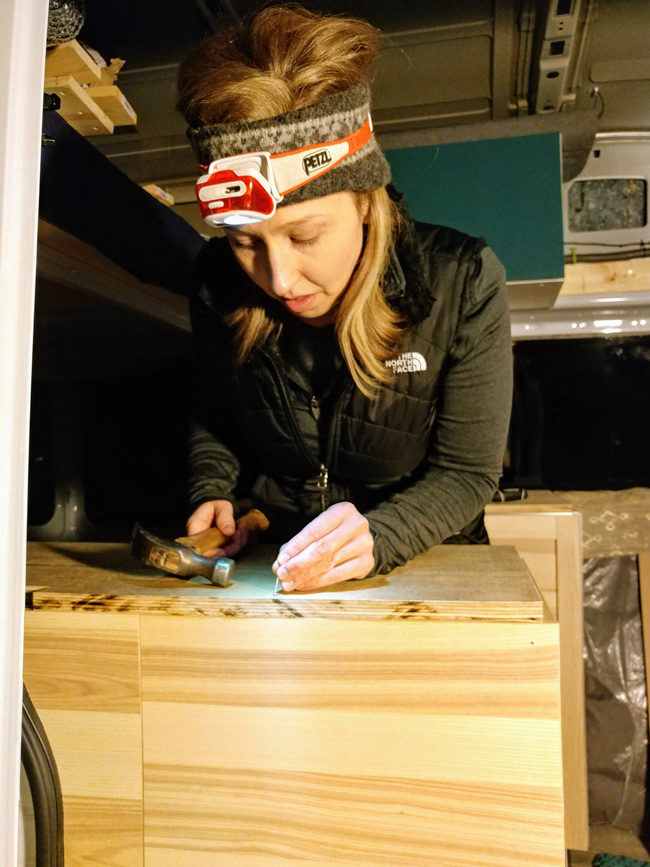 Toilet
Essential to comfortable van life is a toilet, so we've purchased a Thetford 260B Port-a-Potti to keep our setup as simple and space-saving as possible. The potty will easily slide out into our spacious multipurpose area under our lofted bed when needed, and tuck into our custom storage bench when not in use.
To keep the van and toilet cleaning pleasant, the plan is for "Number One" usage only. But the option is there in case of emergencies…
Seating and Storage
Two storage benches will line the walls underneath our bed, giving us a place to sit and work as well as space to store our clothes, shoes, and other gear.
We're working on a plan for a removable tabletop to go between the seats for dining and working on our laptops.
Electricity
We'll wire in a Goal Zero Yeti 1400 with solar panels to generate power as we go. We should be able to power all of our electronics (though not all at the same time).
Flooring
We've installed a high durability laminate-style vinyl plank flooring with the look of gray-colored wood. Unlike other laminate flooring, the planks lock together on all sides so the flooring won't vibrate apart as we drive.
Insulation
Recycled denim insulation will tuck into all the nooks and crannies of our van's steel frame to help regulate our van's interior temperature and keep us more comfortable in all seasons. We'll also have a portable heater and fan for use when needed.
Our floor is insulated with rigid foam insulation, and we'll be using Reflectix for space -saving insulation in a few places.
Ventilation
To start, we'll install a small fan in the roof for ventilation, which we'll later replace with a much larger one, when we're more comfortable with the idea of cutting holes in our van.
Privacy
We worked really hard to find a Ford Transit with windows (a passenger van rather than a cargo van) to give us the best views of nature when we travel. While we love our windows, we also need the option of privacy.
We've had all of our rear windows tinted and we're making blackout curtains lined with Reflectix to pop up whenever we don't want the world seeing in.
Want to keep up with our van conversion progress? Follow us and check out our stories on Instagram!
The Bells (Phase Two)
Estimated Completion: June 2019
After we complete our first phase of construction, we'll be ready to add some of our non-essential "wishlist" items, as our travel schedule permits.
Shower
A small-footprint shower (2ft x 2ft) will go next to and share the water supply with our kitchen sink. The shower will be our biggest challenge as the space is small and our plumbing knowledge is currently limited. Like the toilet, we plan to keep the shower simple, so we'll have a removable grey water tank.
"Escape" Window
For added headspace and a view of the stars, we'd love to add a large bubble window above the bed. We're thinking this can replace our small ventilation fan, and if we get a large enough one, it can be an access point to the roof. Which brings us to phase 3…
The Whistles (Phase 3)
Estimated Completion: September 2019
Roof Rack/Deck
A custom roof rack will give us a unique outdoor space to lounge, plus a place to mount solar panels for power.
This will be pricey, and requires a long lead time for ordering, so we're saving this for last.
Inspiration
We're finding inspiration for our build from multiple sources! These are our favorite experienced van lifers so far:
Do you have any ideas or insight to share for our van conversion? We'd love to hear your thoughts! Share with us in the comments below.