May 30 – June 1, 2014
This past weekend, Ian and I headed down to Anza-Borrego Desert State Park to host another Lonely Speck astrophotography workshop under the starry desert night sky.
HOT DESERT AIR
With temps as high as 102° F during the day and lows of 80° at night, May is just about the last month when you can have a reasonably enjoyable time camping in this hot desert area (until fall when it cools down again). The sun's heat woke us at 7am each morning!

View from Font's Point in Anza-Borrego Desert State Park
ANZA-BORREGO FUN FACTS
The park is named after Spanish explorer Juan Bautista de Anza and the Spanish word "borrego" for bighorn sheep.
The park spans over 650,000 acres of land, and open camping is permitted anywhere.
The four tribes who inhabited these sites are still in the region today.
Some of the rocks found in the park are 470 million years old.
Source: Borrego Springs Chamber and Visitors' Bureau
TENT CAMPING AT BORREGO PALM CANYON CAMPGROUND
We arrived on Friday to camp for two nights at Borrego Palm Canyon, a developed campground in Anza-Borrego Desert State Park, for $20 per night. With summer-like heat sinking in, we had our pick of any campsite on the grounds (though a portion of the campground was closed due to the low popularity of camping in the heat). Of course we selected one of the two available ramada sites, complete with stone enclosure to block out a majority of the morning sun's rays. The campsite was also situated nicely so that the evening sun was behind the mountain to our west at around 6:30pm.

Borrego Palm Canyon Campground, Site #116
Campground Location + Contact Info
200 Palm Canyon Drive, Borrego Springs, California 92004
(760) 767-5311
Cost
$20/night
includes 1 car, additional cars $5/each
Campground Amenities
developed campground
token-operated showers (50 cents for 3 minutes)
modern restroom, sink, & dishwashing basin
ranger on site
Campsite Amenities
shade structure at each site
picnic table at each site
water spicket available every few sites
Anza Borrego Camping Overview | Detailed Campground Info
BEWARE, THE BLACK WIDOW
One thing to keep an eye out for is the black widow. We noticed three that had spun webs against the stone structure of the ramada. They hid in the rocks during the day and then hung out in the middle of their webs, with their red hourglasses on clear display, during the night.
A SHORT LITTLE HIKE
We went out for a short walk around the campground, venturing up one of the hiking paths for about 15 minutes. Just a few cell phone shots we snapped along the way:

Campground cactus

Campground grasshopper

Campground amphitheatre
PENINSULAR BIGHORN SHEEP, IN HIDING
With the whole park named after them, we were hoping to see some of the infamous peninsular bighorn sheep in the park. We talked to the friendly ranger, who told us that the sheep actually come down the mountain to the campground frequently to drink from the small pond on the west side of the grounds. But since it had recently rained, the sheep had plenty of water up the mountain and no reason to come down.
I was a little disappointed that we didn't see a single one during the three days we spent there, but we still had a great time on our Anza-Borrego desert weekend!
FONT'S POINT
Friday night we grabbed some cold beers and headed out to Font's Point at sundown. A 4-mile drive on a sandy, slightly bumpy dirt road leads to a gorgeous place to watch the sunset.

View from Font's Point to the south

View from Font's Point to the east

Lounging (carefully) on the edge of the cliff (view to the west)

Ian taking some sunset shots
Having visited during the California winter when the crowds gather at Font's, we quite enjoyed the complete seclusion we found there during our almost-summer visit. We somewhat regretted having already pitched our tent at Borrego Palm Canyon, because I'm pretty certain the sunrise from Font's point would be breathtaking, and we were out shooting until 2am anyway.
ASTROPHOTOGRAPHY UNDER THE SUMMER DESERT SKY
I can't think of a better time or place to be out shooting photos at night. At about 80° F after sundown and through the night, for once I was completely comfortable! (Most times we've been out shooting the Milky Way, it's been pretty chilly.)
THE MILKY WAY FROM FONT'S POINT
Some of our nighttime results from Font's Point:

My favorite from the night
(If you like these Milky Way photos, don't miss the ones at the bottom of this post!)
After 5-6 hours of photos (and me somehow falling asleep on my fleece-blanketed rock bed for a brief period), we returned back to camp at about 2am, cooked dinner, and went to sleep around 3am. After a few hours of sleep, we woke up at 7 to a hot day in the desert. We enjoyed a nice warm (& free) shower (the machine was broken, so no tokens were needed) and then set out to explore the desert town, with refuge from the heat in the air-conditioned 4Runner.
GALLETA MEADOWS ESTATE DESERT SCULPTURES
Saturday night was workshop night, so during the day, we scouted out some neat subjects for our Milky Way photos. We'd seen some of the Galleta Meadows Estate sculptures when we visited Borrego Springs several months ago, but this time we drove out on the dirt roads and got up nice and close to most of these spectacular metal sculptures – all strewn about the desert and accessible to the public.
THE GALLETA MEADOWS ESTATE SCULPTURES BY DAY
I snapped all of these shots on my trusty ol' Samsung Galaxy Nexus.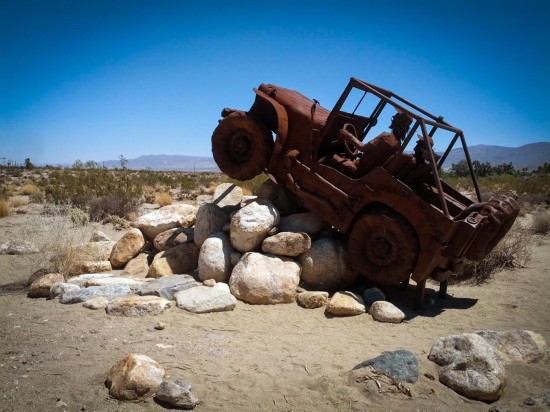 This 5-piece serpent extends from one side of the road to the other!

Thanks to this guy, who created a great photo op for us! (He was posing for his own photo, so I took advantage of the moment.)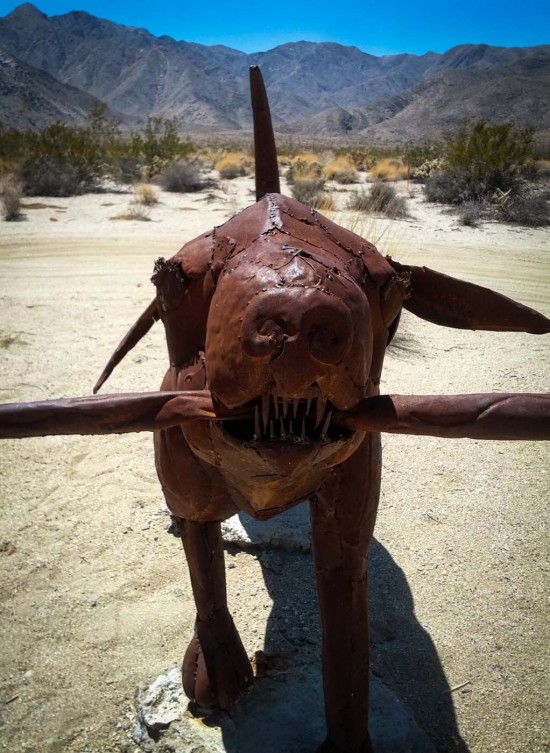 One of my favorite sculptures. Wonder who wins this fight…
THE GALLETA MEADOWS ESTATE SCULPTURES BY NIGHT
I had a chance to take some Milky Way photos while Ian worked one-on-one with Pat, his private workshop participant. We used the Galleta Meadows Estate sculptures out in the desert as subjects for most of our photos.
Below are my favorite photos from the whole trip! For these I used our Fuji X-T1 and the 14mm f/2.8.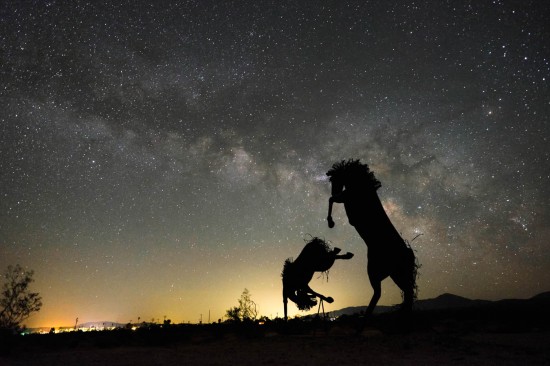 That's me with the wooly mammoths!

(Ian took this one on our Canon EOS M, but the rest were all me and the Fuji!)
Heading out to Borrego Springs? View a map of the sculpture installations here, or you can grab the Road Guide to Borrego Springs Metal Art Sculptures for Kindle.