So you're dying to see puffins on your trip to Iceland, eh? I'm no bird watcher, but that was me, on our inaugural trip to Reykjavik this summer. Unfortunately, we discovered, they're not as common as horses and sheep, and we almost went our whole 6-day trip without finding them.
Once we did, however, it was magical! We saw upwards of 80 birds swimming, fishing, flying and waddling, and there were always around 10 of them a short 3-5 meter distance away. If you're visiting Reykjavik during puffin season and don't mind a 2+ hour drive, read on for our simple tips for locating these beautiful birds and the photos we captured once we (finally) found them.
How to Find Puffins Near Reykjavik
The Best Time to See Puffins in Iceland — April through August or September, according to various Iceland guides, is the time to spot puffins in Iceland. We saw plenty on a June morning from about 8am to noon, with most of their flying and fishing activity going on from about 9am to 11am. They very well may be out in the afternoon, too, but we left after our puffin-filled morning.
The Best Weather to See Puffins in Iceland — Wind seemed to keep them inside and unspottable, so opt for a calm weather day. The first day we tried to find them, it was horribly windy, and the few birds (not puffins) that were out were getting blown around all over the place. We finally saw puffins on a calm, cloud-covered day.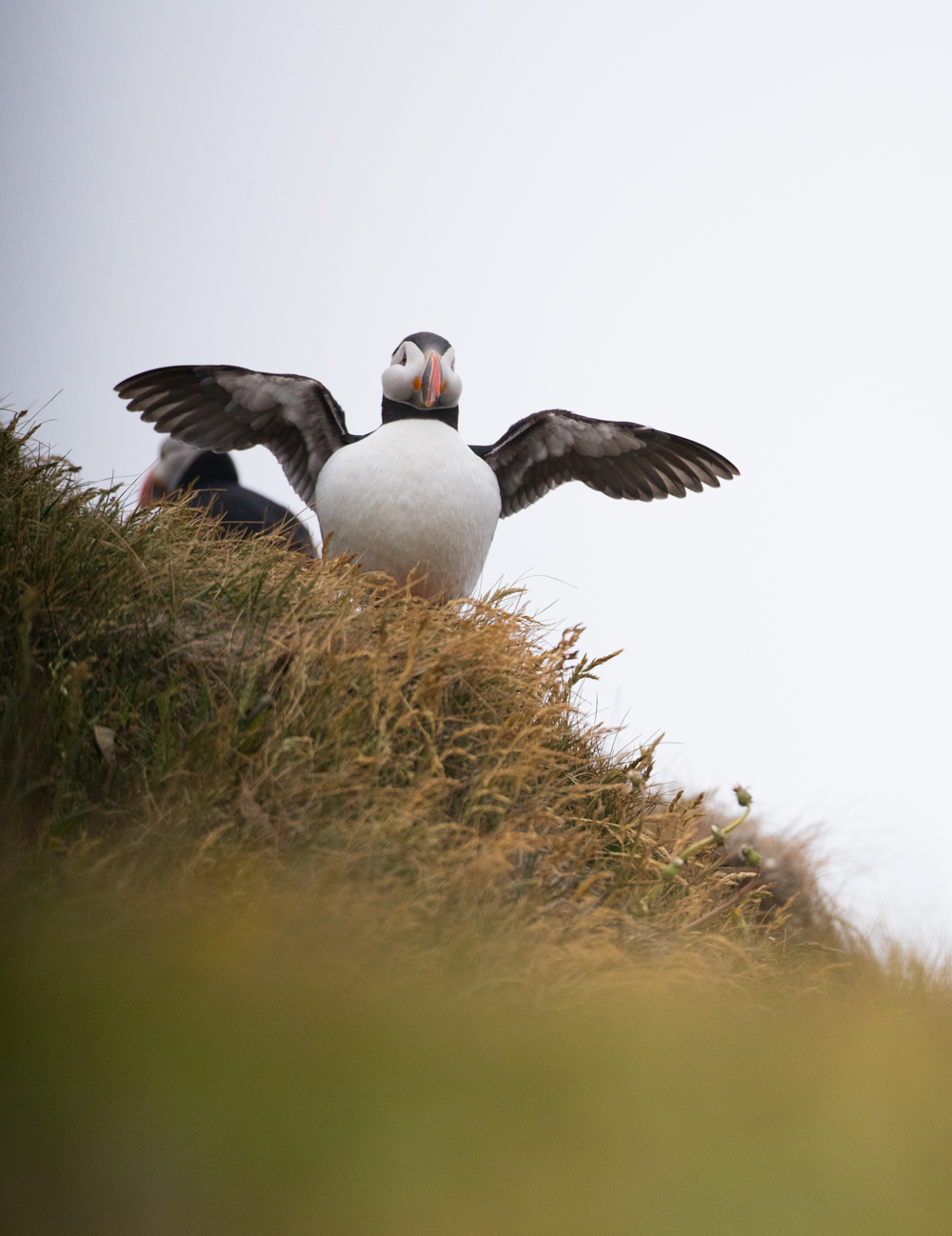 The Best Places to see Puffins in Iceland — Puffins nest in the rocky, grassy areas on the side or near the top of coastal cliffs. For us, Dyrhólaey was the perfect puffin-watching spot because there are other things to see on the way when coming from Reykjavik (Seljalandsfoss, Skógafoss, views of the famous Eyjafjallajökull volcano). Driving straight to Dyrhólaey from Reykjavik takes about two hours and fifteen minutes (our puffin sighting spot; park here). It was a little busy when three or so tour buses arrived mid-morning, so you may prefer either driving straight there early (save the other sites for the drive home) or searching for a quieter colony. Use Iceland Magazine's puffin map to see where they typically hang out. You can also take the windy gravel drive (hike, if the road's closed) up to the higher cliff at Dyrhólaey, which will be less busy and offers up some lovely views.
Important: If you come to puffin watch, please maintain the quiet serenity of the nesting areas. Don't be an obnoxious loud tourist, because you'll scare all the close puffins away.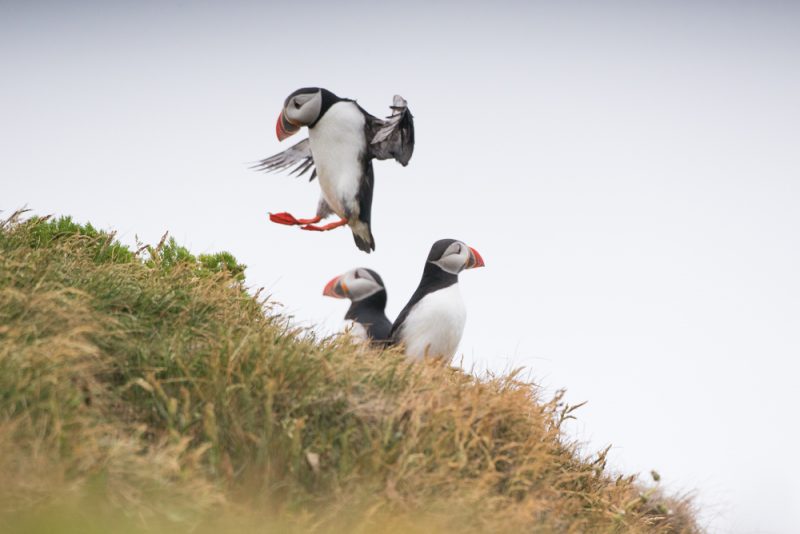 Puffin Watching by Car
We prefer to move at our own pace, so we rented a car and drove out to search for puffins on our own schedule. We'd also rented an expensive long camera lens, so dry, stable land was the best option for us.
Car rentals in Iceland aren't cheap ($100/day), but having your own car is a great way to ensure you see what you want on your Iceland visit. We had a seamless experience renting through Hertz; their pick-up counter is inside the airport terminal, so you don't have to walk outside in the potentially crappy weather to rent your car.
Can't Find the Puffins? Puffin Watching by Boat
If you don't want to drive so far on the mere chance of seeing puffins, I totally understand. An alternative is taking a puffin watching boat tour out to one of the island colonies from Reykjavik. We heard some tours guarantee sightings and saved that as a back-up plan if we couldn't find them on our own.
A final note: Thanks to this post for turning me on to Dyrhólaey and getting me excited to see the Atlantic puffins of Iceland to begin with.
For info on puffin photo licensing, please contact us here.