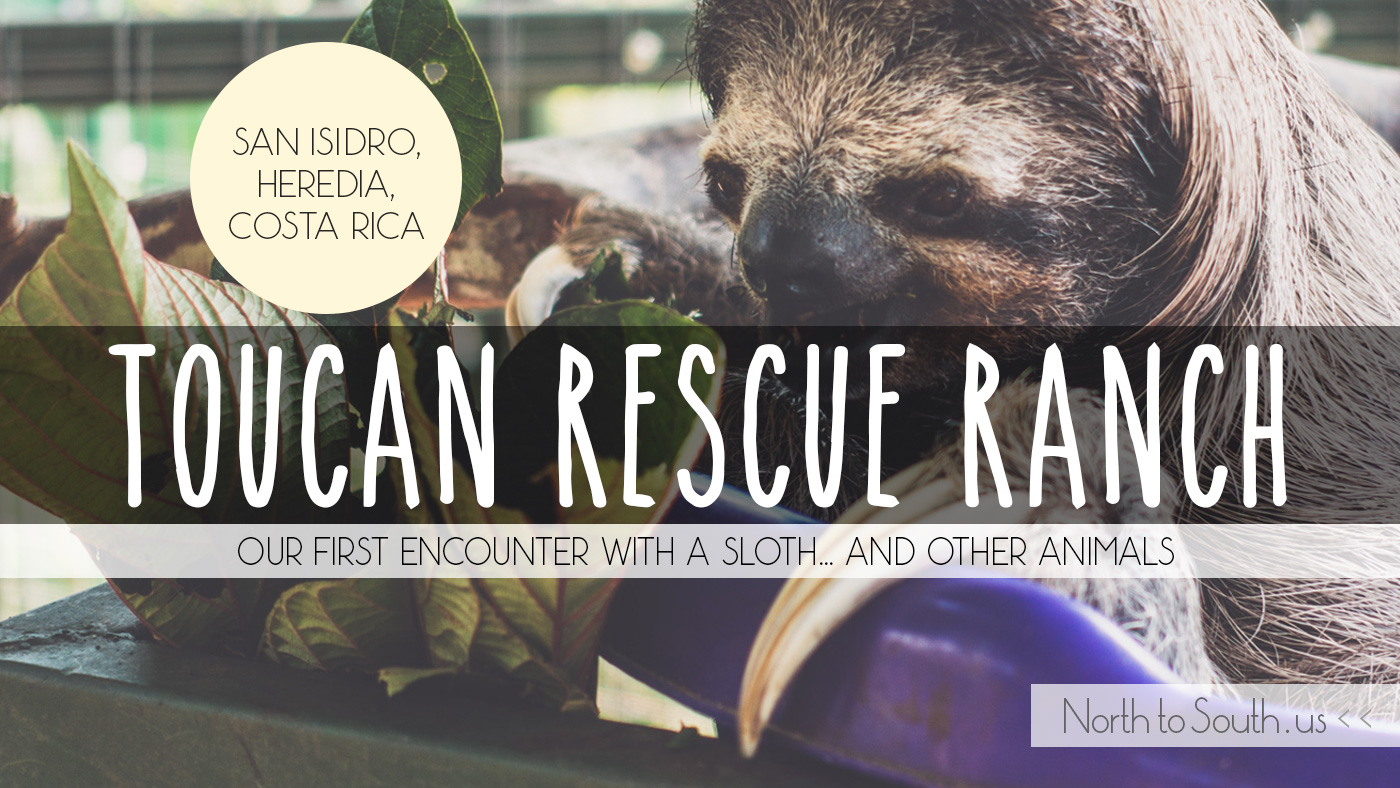 I have a new obsession. If you follow us on Facebook, you already know what it is. (Here's a hint: They're four-legged, furry, and have a reputation for moving rather slowly.) 
It took me about two seconds to decide I wanted to do the Toucan Rescue Ranch tour after discovering them on TripAdvisor and seeing photos of the animals on their website. Don't let the name fool you; there's a LOT more than just toucans at the Toucan Rescue Ranch. Beautiful tropical birds, baby monkeys, a neo-tropical river otter, and — wait — is that a baby SLOTH?!?! I was sold.
The Toucan Rescue Ranch has rave reviews on TripAdvisor, too.
Reservations Required to Visit the Toucan Rescue Ranch
As a rescue facility, tour reservations are required in order to visit. I immediately put in a tour request and, after receiving a quick response from Carol, secured a reservation three days in advance for the afternoon tour.
Note: Take cash with you (USD or colones) to pay on the day of your tour. The afternoon tour was $30/person (Feb 2015).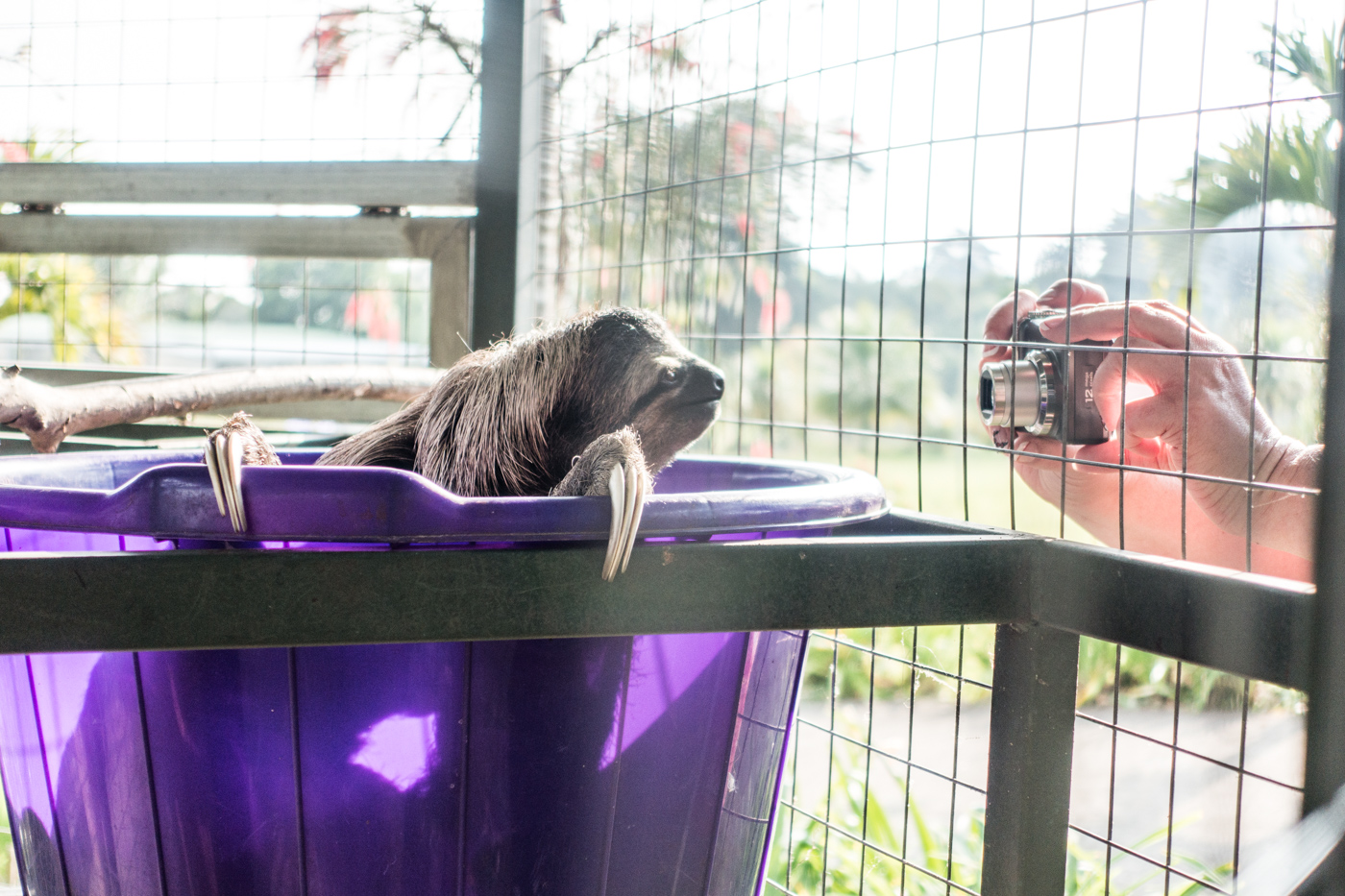 Getting to the Toucan Rescue Ranch
In true budget travel style, we took the bus the majority of the way from Heredia (just 590 colones for the two of us) and caught a taxi for the last little spurt. Carol was helpful in instructing us where to catch a taxi near where the bus let us off in San Isidro and gave us the Ranch's phone number for the taxi driver to call in case he didn't know where they were located.
Tucked Away Outside of Town
Familiar with "el Refugio de Tucanes," the taxi driver drove us straight up to the gate. I can see how it'd be hard to find if you've never driven there before; there's a colorful toucan statue at the end of the driveway, but, as a safety measure to protect their animals from potential theft, the owners have chosen not to advertise the name of their facility on the public roads. (Google Maps doesn't place the Ranch at its exact location either; it shows it farther south than it really is.)
Arriving about 20 minutes early, Leslie and Jorge (the owners) greeted us, showed us where the restrooms were located and allowed us to walk around on our own prior to the tour. We quickly spotted the three-toed sloth, and I was pretty much glued to her enclosure up to the start of the tour.
A Short Sloth Video
Our Afternoon Tour of the Toucan Rescue Ranch
At 2:00 it was time to get started. Leslie began our tour on the patio with a short intro to the Ranch and its history, showing us photos of animals that had come in over the years in need of help. There were about 12 people on our tour — mostly older folks, though they do welcome kids on tours — and everyone had a seat for the introductory session. From the stories she told, you can really tell Leslie has poured her heart and soul into caring for these animals.
From there she took us to a room with a variety of injured birds and an incredibly adorable baby anteater, which she brought out to give us a closer look. It was a squirmy and playful little thing, despite being blind in one eye.
After visiting the indoor animals, Leslie led us to the owl enclosures, where two owls were sitting on eggs!
We didn't get too close to these owls so we wouldn't bother them, but Leslie told us the owls' stories and shared her plans for moving them to a quieter spot (after their eggs hatched) where they could live happy nocturnal lives away from the daily noises around the center of the Ranch.
More of my favorite part was next, as we paid a visit to the two-toed sloths. Leslie fed one of them (Stella, I believe her name was) a hibiscus flower, which she immediately gobbled right up.
The sloths all looked content and cozy in their blanket-filled buckets.
We then made our way around to a sleepy ocilla, the bird training cages, a resident hawk, porcupines, and finally the toucans.
They were a quite lively and jabbery bunch, as we walked along the path and took photos.
We finished our loop with the monkeys, a neo-tropical river otter, and grison, before heading back for some more close-up bird and sloth viewing!
Did you know? The three-toed sloth is the reason sloths have a reputation for being slow-moving. According to Leslie, two-toed sloths are actually quite fast!
The Real Boss of the Ranch? — Emma followed Leslie around the entire tour, threatening to nip anyone that got too close in the ankle or calf. She bit Ian a few times, which he says didn't hurt at all. It was actually quite adorable and gave the place some added character.
BABY SLOTHS!!!
The tour ended back on the patio, where Leslie and Jorge brought out three baby sloths!
After watching them crawl all over each other (this, again, was seriously adorable), we paid for our tour, had a chance to purchase souvenirs, and they called us a taxi for our return trip.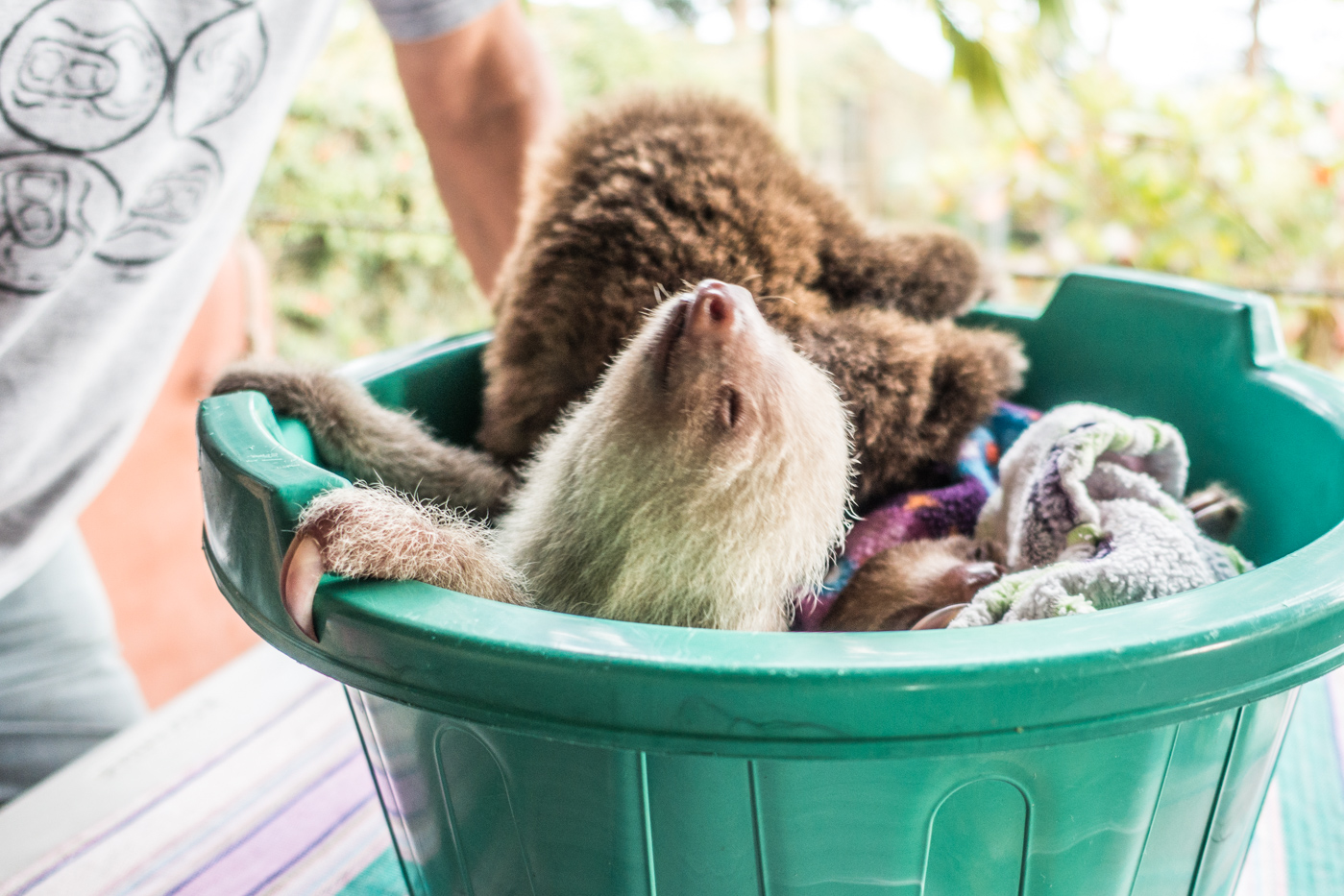 A Highlight of Our Trip to Costa Rica
Overall, this tour was amazing. I HIGHLY recommend it — for any age. It starts out fantastic and just keeps getting better. The other group that toured with us had driven two hours to get there, and while I didn't ask them, I could tell it was worth it.
Where Do the Animals at the Toucan Rescue Ranch Come From?
Throughout the tour, Leslie shared with us the various ways the animals came to be at the Ranch. Here are just a few examples:
birds taken to the vet to be euthanized for no other reason than they're no longer wanted
animals wounded by humans*
motherless animals found in various locations
animals illegally taken from the wild, discovered by the police in a random car check
animals stolen from the wild and sold as pets
*They've had animals come in as a result of slingshot wounds. Running the Ranch allows Leslie to reach out to discuss the proper treatment of animals with children — hopefully aiding in the prevention of future occurrences.
How long do the animals stay there? Some animals come in and can be rehabilitated over a period of time and re-released to the wild. Some animals are born at the Ranch and are put through a program to be released when they've grown and learned how to survive. And some can never be released because for one reason or another they won't survive; these animals become residents at the Ranch and receive care and attention from Leslie and Jorge, plus a small staff of volunteers.
You can read more about the Toucan Rescue Ranch on their website.
---
Have you ever visited a wildlife rescue facility? Which animal in this post is your favorite?