Two more National Parks and three new National Monuments, including the most beautiful (and surreal) place I've ever seen! Week two of our summer road trip took us all the way from Arizona to Texas, with a scenic desert drive through New Mexico on the way.
Below is a photographic re-cap of our second week of road-tripping across the U.S. in our little red Yaris. Read on for beautiful white sand dunes, cacti that actually look like the ones you drew when you were a kid, and a couple of neat ruins speckled about the American Southwest! 
Follow us!
You can get an overview of our trip each week here on the blog, but we're posting almost daily updates of our cross-country U.S. road trip on Facebook and Instagram.
We're camping our way around the U.S. Want to know what gear we use? Check out 5 of our summer camping essentials here.
States Visited This Week
States Visited in Previous Weeks
Total States Visited So Far: 5
California, Nevada, Arizona, New Mexico, Texas
Stops/Landmarks
Montezuma Castle National Monument, AZ
Canyon Lake & Tortilla Flat, Greater Phoenix Area, AZ
Casa Grande National Monument, AZ
Saguaro National Park, AZ
White Sands National Monument, NM — both Diana's and Ian's favorite
Big Bend National Park, TX
Austin, TX
Highlights
Cheat Day on our diet, featuring Indian Fry Bread, La Santisima Gourmet Taco Shop, and a bunch of sugary goodness
Meeting Tyler Sichelski and camping near Canyon Lake
Getting frustrated at the lack of camping near Saguaro National Park (We ended up in a budget hotel in Tucson that night.)
Getting the last backcountry permit for White Sands and meeting Wally Pacholka of astropics.com
Hiking at White Sands
Getting sandblasted inside our tent at White Sands followed by a mild thunderstorm… but loving the heck out of it anyway — More about White Sands in our shot of the week from this week.
Realizing at Big Bend National Park (Texas) that the most amazing thing we packed was a battery-powered fan from Walmart (We seriously wouldn't have slept that night without it.)
The Congress Bridge bats in Austin, Texas
Notes and Insights
We bought our annual National Park pass ($80) at the Grand Canyon at the end of week one, and it paid for itself in just 5 days of road tripping: $25 at Grand Canyon, $10 at Montezuma Castle, $10 at Casa Grande, $10 at Saguaro, $6 at White Sands, and $20 at Big Bend
On our road trip playlist this week: Walt Grace's Submarine Test, January 1967 (John Mayer) and Polaroid Memories (full album, Urban Cone)
Our favorite 4HB road meals this week: Chipotle salad w/no rice, plus extra beans and sometimes guac and Wendy's chili with onions and a side garden salad with Italian dressing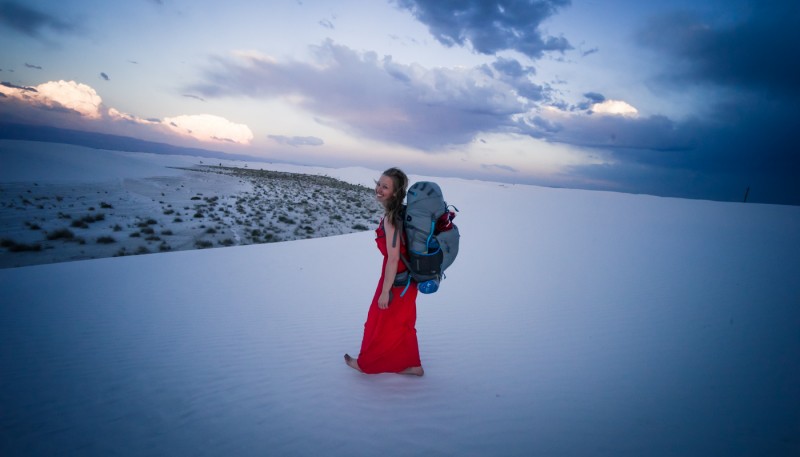 Photo Gallery
All photos were taken by Ian and Diana with the Sony a7 II (Ian's camera), Sony RX100 III (Diana's camera — review here) and our smartphones.
Week Three Preview
Eating our way through the New Orleans French Quarter
Cards vs. Diamondbacks, a walk-off home run, and visiting my cousins in St. Louis
Returning to my favorite Missouri State Park to show Ian an awesome piece of my childhood
Thunderstorms, fireflies, and other Midwest-y stuff
Getting lots of blogging done during our multi-day hotel stays
Seeing one of my best friends from school and getting pumped for her wedding at the historic Old Cathedral in St. Louis
I hope you enjoyed our week two U.S. road trip re-cap! In case you missed it, check out week one here. Have you road-tripped to any of these U.S. locations? Tell us about your trips in the comments.
Until next week, follow us on Facebook for the latest news and photos from our trip.