Before I met Ian, the nicest camera I ever owned was probably the one on my cell phone. Well, he fixed that faster than you can say "interchangeable lenses," and gave me my first digital SLR (a Canon T2i) after just two months of us being together. That was three years ago. Since then, the digital cameras I've "owned" include a Canon EOS M, a Sony a6000, and finally, my beloved Sony RX100 III. The T2i was a great camera to learn on, the EOS M I never really grew fond of, and the a6000? It was GREAT! Until I tried the RX100 III and just HAD to have that instead. Keep reading to find out why AND to see my favorite photos I've taken with this camera. 
It was a seemingly miniature version of my a6000: the photos it produced were just as good, and the interface was almost exactly the same. But the RX100 III trumped the a6000 on 4 immediately noticeable points:
4 Reasons Why the Sony RX100 III is Better Than the a6000
1. Size
I thought I had the camera size thing all figured out when I got a pancake lens for my a6000. I mean, I found a belt pouch that it fit into that I wore at Burning Man last year. But the RX100? It's the size of a point-and-shoot, guys. I can't tell you how AMAZINGLY PRACTICAL that makes this camera for travel. It fits in my purse. Easily. And my purse is TINY. Now I'm so much more likely to bring a camera with me everywhere… and it's all because of its small size.
2. Lens
Before you photography buffs out there have a heart attack, let me explain. I'm not saying the lens is better in every possible way than any lens you could possibly put on the a6000. BUT… the RX100 has an f/1.8 lens which makes it super good in low light and lets me blur out the background just like a DSLR. I had a pancake lens on my a6000 (which, by the way, is a relatively small and lightweight mirrorless camera, too) and I still prefer having the diversity of the zoom lens with the (more important to me) retractability of a point-and-shoot-style lens. And as far as I know, there's no such thing as a completely retractable interchangeable zoom lens out there… so yeah. The RX100 is my obvious winner here. I should mention: I literally NEVER changed the lens on my a6000, despite having access to two or three other fantastic lenses, in the whole 6? 8? months that I owned it. So yeah… interchangeable lenses, I've determined, are NOT that important to me.
3. Style
After I sold it, I finally admitted: the a6000 is actually not that stylish. It's more compact and doesn't overpower an outfit like a bulky D-SLR will, but it's still kinda chunky and plastic-y. With the RX100 III, on the other hand, Sony has got it DOWN. I'm not sure it's even possible to buy the camera without the high-quality, non-bulky, attachable leather case. It gives it a vintage, quality look and feel, and it complements the camera itself perfectly. I love how the front and back cover are detachable (by snaps), while the camera remains attached to the bottom portion of the case, which stylishly hugs the camera along the lower third of the camera's front and sides.
Note: I've also replaced the stock shoulder strap with one of my lovely and ever-so-comfortable handmade silk camera straps. If you want to make your own, follow my step-by-step video tutorial on Skillshare.
4. Selfie Mode
Yep. That was a factor. I could name #4 "diversity of use," but in the interest of being honest, it's the selfie mode that was the most important diversity point for me. Ian (that professional photographer boyfriend of mine) and I may argue over the best way to aim a selfie shot of the two of us standing in front of a famous landmark on our travels… but the camera we use? That's never up for debate. We know the RX100 III is the best option. The LCD literally flips completely up to look you straight in the face. No selfie stick required.
So now you've got a little taste of my approach to choosing a camera. Basically I don't — and will likely never — call myself a professional photographer. But neither will most of the general public. So, if you fit into the "I know how to generally operate a camera and I want something better than my $300 point-and-shoot" category, this review is for you.
More Reasons I ♥ the Sony RX100 III
I could go on and on, but to keep it concise, I'll stick to just these 10 12 15:
the lens
zoom
large aperture lens + large sensor combo produces low depth of field photos in a compact camera
compact size
lightweight
pop-up viewfinder
video stabilization
stylish design — even more stylish with a custom camera strap (shown above)
nice attachable leather case can be purchased with the camera
selfie mode
built-in flash (can be tilted up for bouncing off the ceiling)
built-in ND filter (lets you shoot at f/1.8 in bright sunlight)
easy social sharing with the PlayMemories app on your smart phone
chargeable via USB
It takes a mean Milky Way photo, too (see below for proof).
A List of Things to Long for
There's really not much I don't like.
a quicker way to remove the memory card with the case on — You have to unscrew and remove the leather case completely to access the memory card and battery compartment.
someone to take a selfie with — It's WAY better than doing it with a cell phone, I promise!
Sony RX100 III Photography Samples
UPDATE: Check out my photo of the Northern Lights in Yellowstone National Park, taken with my RX100 III!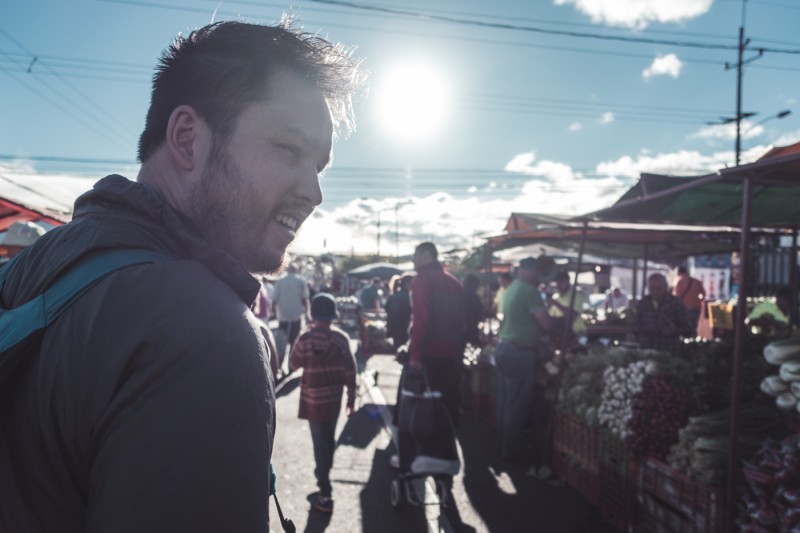 The Video is Awesome, Too
Crystal clear and with built-in stabilization, videos turn out awesome with basically no effort on this thing. Here's a video sample:
R.I.P. Andie the sloth, who I had the pleasure of meeting on our visit to the Toucan Rescue Ranch in Costa Rica back in February.
You can also watch a video of me getting my nose pierced, taken with the RX100 III, here. (WARNING: not recommended for those with weak stomachs.)
Worthy Accessories for the Sony RX100 III
leather case — Usually bundled with the camera, it's the only way to attach a shoulder strap.
screen protector — I have the Sony one on mine. It was super easy to put on.
custom silk strap — I made my own! I've provided DIY instructions over at Stylish Travel Girl, and I'll make and sell them on occasion through Etsy.
Ian's Astrophotography Review of the RX100 III
He finally finished it! Don't miss our Milky Way photography with the Sony RX100 over on Lonely Speck!
---
I hope you enjoyed this post! If you want to read more camera gear reviews from me and Ian, give these a try: