All aboard! Last December Ian and I jumped on Amtrak's Coast Starlight train — simply to experience a new method of getting from Point A to Point B — and it became one of our most off-beat and unexpectedly enjoyable travel adventures yet.
If you're looking for a short and unique getaway that won't require spending all of your savings, this 35-hour train ride could be your perfect trip.
We've traveled by train before (Bergen to Oslo, Milan to Lake Como, and Amsterdam to Berlin to name a few), but none of those trips compared to our train ride down the west coast of the U.S.
The Coast Starlight Route
Seattle –> Portland –> Sacramento –> San Francisco –> Santa Barbara –> Los Angeles
or
Los Angeles –> Santa Barbara –> San Francisco –> Sacramento –> Portland –> Seattle
(with several smaller stops in between)
View the latest information on the Coast Starlight train route on the Amtrak website.
Accommodations
There are several seating and sleeping options when it comes to train travel.
Seat Only Options
If you're looking for for an all-inclusive adventure, meals in the dining car are included for all first class passengers and passengers with sleeping accommodations!
Sleeper (Private Room) Options
We reserved a Roomette for our Seattle to LA trip last year for around $370. The Roomette was perfectly fine for two people, and the picture window made the small space feel much bigger, but we're thinking next time we'll splurge for a Bedroom so we can have a private bathroom/shower.
Visit Amtrak's website for an overview and comparison chart of the Superliner's sleeping car options.
It's Quirky and Fun to Travel by Train
Here are a few reasons we think so:
Wine and Cheese parties in the Pacific Parlour Car
Dinner with strangers in the Dining Car
Awesome views in the Sightseer Lounge Car
Friendly service in the Sleeping Car
Converting your chair to a bed each night and back again in the morning definitely has an element of fun to it. There's a sleeping car attendant who helps with the turn-down. We didn't make it to any of the Wine and Cheese parties (and there's an extra charge), but the fact they were offered was nice. Same goes for the theater (downstairs part of the Parlour Car). We missed the two movie times offered, but we did pop in to check the space out, and it was pretty cool for being a movie theater on a train.
Note: Sometimes the cars change seasonally on the trains — e.g. the Parlour Car is only available for certain departures from January to March — so be sure to ask before you book, if there's a particular car or amenity you want to enjoy on your trip.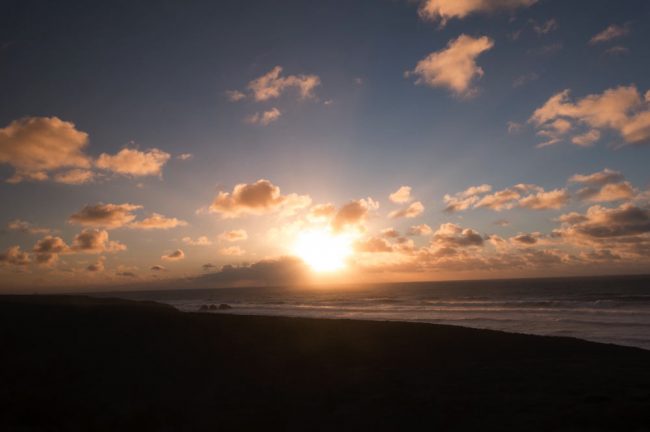 The most interesting part of our overnight train adventure was the assigned seating reservations in the dining car. Each booth sat four, so as we were only two, we were assigned to a table with two other guests who had requested a dinner reservation for the same time as us. The three meals I remember were with:
an Aussie couple on their first (and mostly unplanned) trip to California — We gave these two lots of ideas for things to do on their trip.
a retired man and woman (not a couple) who frequently travel together, the former of which struck up the kinds of conversations that most frequently result from having one drink too many — This was obviously our favorite and the most entertaining.
an elderly woman who didn't seem to be able to hear or see anything — After a complete lack of reaction from her when we smiled and said hello, we decided the meal would only be as awkward as we allowed it to be, so we carried on as normal a conversation as possible between just the two of us.
Tips for Planning Your Train Adventure
A few key tips to ensure an awesome train trip
Booking
Instead of booking online, book by phone or in person so you can request your seat/sleeper to be on the side of the train with the best views (facing west).
Consider whether you'd like to pay (considerably) more to have your own private bathroom/shower.
Like plane travel, prices are based on demand. You can book a Roomette for this route for under $400 if you're booking well in advance or at an unpopular time, but during peak times and on shorter notice, the lowest-priced private room may cost you over $1K. If your travel dates are flexible, explore all your options to get the cheapest tickets.
Packing
Pack your toiletries! The website advertises "soap and shower amenities" included with private room reservations, but the only toiletry provided on our train was soap. Towels were provided as well, but you should bring your own shampoo, conditioner, etc. (Apparently Amtrak used to provide more complimentary toiletries on their overnight trains, but that's no longer the case.)
Bring some cash. You'll need it for tipping your sleeping car attendant and for any special activities you participate in.
Don't pack too much. You can check bags, but there's really not a lot of space for luggage in a private sleeping cabin. I recommend keeping it to one bag per person on board, but you should check how much luggage will fit in the accommodation option you choose.
Riding
While by and large everyone on our train seemed friendly and harmless and I try to think the best of people, I still wouldn't leave my valuables unattended on the train. (We brought along our travel safe for the ride.) The cabins are lockable from the inside, but if you're out, say, at the dining car, your room is accessible to anyone. And the train is stopping periodically for people to get on or off. You can leave the curtains closed so no one can see in, but that won't stop someone from "accidentally" entering the wrong cabin — just to see if anyone's home. Play it safe and take anything important with you while you're outside of your sleeping quarters.
Plan for delays. The train isn't always on time, so factor this in if you need to be at your destination by a particular time.
Don't rely on having great WiFi. Some, but not all, of Amtrak's trains offer WiFi on board. Our Coast Starlight trip did (though it was spotty) when we rode last year, but currently WiFi is not an advertised amenity for this route.
Bring a blanket or sleeping bag. Ear plugs would be a good idea, too. The blankets provided in the sleeping accommodations are somewhat thin, so we were a little chilly for our winter ride.
It may not be the most glamorous way to travel, but like I said, it's certainly unique and it won't be as pricey as a trip that requires flights. Plus, Seattle and LA are both great U.S. cities to explore either before or after your train adventure.
Now tell me, who's on board? 😉
---
Have you ever experienced a train adventure in the U.S.? Share your best (or worst) memories of train travel in the comments below!