One year. One couple. One small car… Fifty states.
We hadn't originally set out to explore our entire home country, but location independence is a beautiful thing. See how our 6-state plan turned into a 50-state quest on our 2015 road trip in the U.S.!
Our Trip at a Glance
Distance: 20.2K miles

Time: 309 hours

Destinations:
All 50 states except Oregon and Washington

Cost: $2.2K*

Distance: 12.4K miles

Time: 30 hours

Destinations:
Los Angeles to Seattle (one-way), Anchorage, and Kona

Cost: $2.1K

Distance: 1.2K miles

Time: 35 hours

Destinations:
Seattle to Los Angeles via the Coast Starlight

Cost: $450
*Includes cost of gasoline ($1.4K) throughout our road trip, 3 oil changes ($200) for our Yaris, plus car rental ($600) in Hawaii (1 week) and Alaska (2 weeks).
An Evolving U.S. Road Trip Itinerary
How, exactly, does one decide to embark on a 50-state quest?
In the beginning, our destination was just St. Louis. Coming from California, we set out early to see some places on the way, but my friend's wedding was the end of the planned itinerary.
And then I wanted to visit my twin brother in Chicago.
I'd seen too little of my twin since graduating high school — Yes, I have a twin. No, we're not identical. — so it was high time we caught up. After some quality twin time in the Windy City Ian and I took a short trip around the northern U.S. to go camping with friends over in Yellowstone National Park. It was some time around then that I got the crazy idea we should visit all fifty states. I really wanted to see the East Coast. And visit New York City. And get totally soaked at Niagara Falls.  And we didn't have any upcoming travel plans to stop us. As we made our way back to Chicago, we let the idea settle in.
We then came up with a general route plan and made it our official mission to continue on and visit all fifty states in one year's time.
Our Route
Before we knew it, we were eating chocolate in Hershey, Pennsylvania, visiting family in Virginia and Florida, airboating in the Everglades, and booking flights to both Hawaii and Alaska.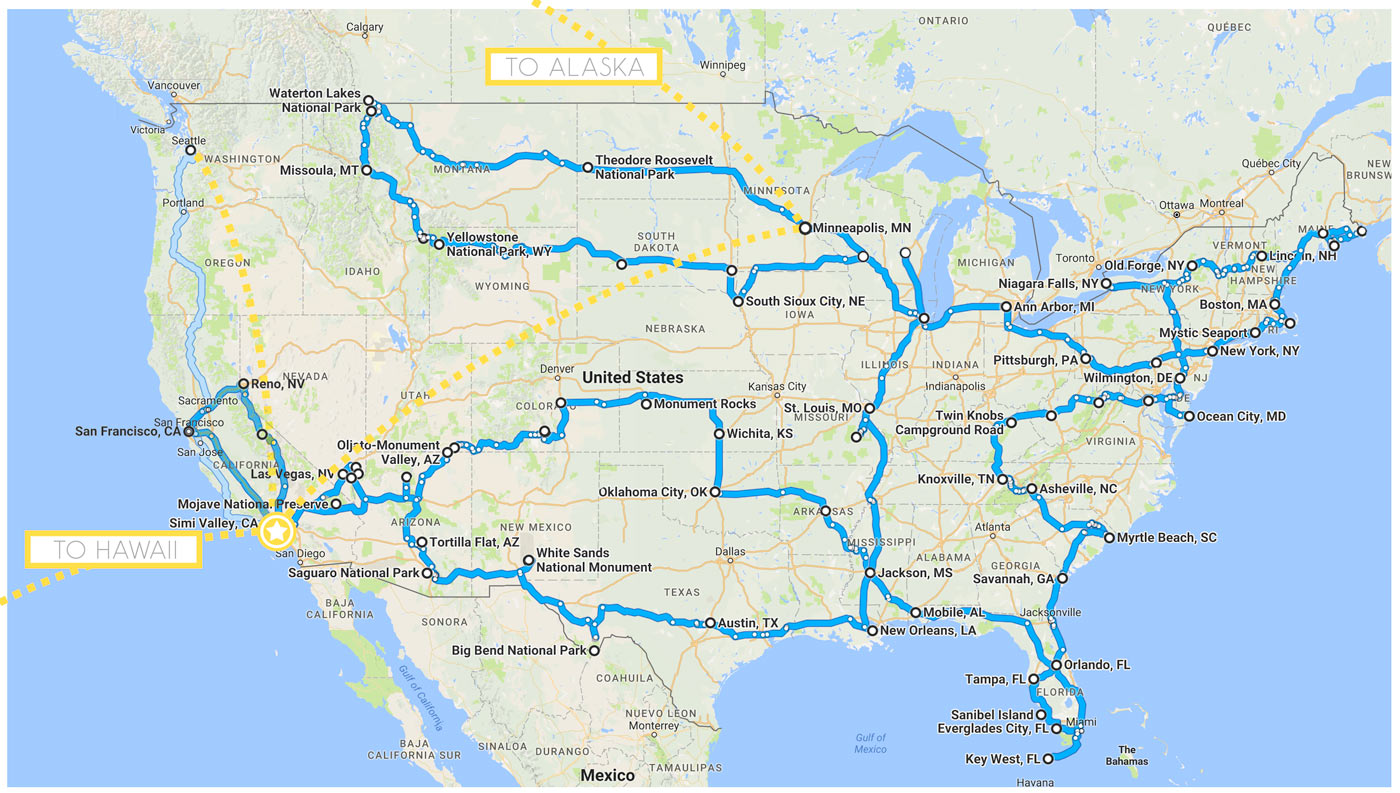 We reached each of the 50 states in the following order:
1. CA
2. NV
3. AZ
4. NM
5. TX
6. LA
7. MS
8. TN
9. AR
10. MO
11. IL
12. WI
13. IA
14. SD
15. NE
16. WY
17. MT
18. ID
19. ND
20. MN
21. MI
22. IN
23. PN
24. OH
25. NY
26. NJ
27. CT
28. RI
29. MA
30. NH
31. ME
32. VT
33. DE
34. MD
35. VA
36. WV
37. KT
38. NC
39. SC
40. GA
41. FL
42. AL
43. KS
44. OK
45. CO
46. UT
47. AK
48. OR
49. WA
50. HI
In that year, we reached the easternmost point of the U.S. at West Quoddy Head (photo), the southernmost point of the contiguous 48 in the Florida Keys, and the southernmost point of the entire U.S. on Hawaii's Big Island, where I jumped off a cliff into the ocean (which was f***ing crazy, in hindsight). We didn't make it to Point Barrow in Alaska (the northernmost point), but Alaska's absolutely amazing, so I don't doubt we'll return to do that soon.
Trip Highlights
I've written posts about some of these — more to come soon!
We took so many photos on this trip — way too many to squeeze in here.  Luckily I was organized and created a hashtag for this trip, so you can view our favorite road trip moments on Instagram.
Major U.S. Road Trip Destinations by State
ALABAMA

ALASKA
Anchorage
Seward
Talkeetna
Whittier
Hatcher Pass
Portage
Matanuska Glacier
ARIZONA
Grand Canyon National Park
Saguaro National Park
Monument Valley Navajo Tribal Park

ARKANSAS
CALIFORNIA
Los Angeles
Mojave National Preserve
Lake Tahoe
San Francisco
Trona Pinnacles
COLORADO
Colorado Springs
Great Sand Dune National Park

FLORIDA
Orlando
Universal Studios
Universal Islands of Adventure
Celebration
Tampa
Clearwater
Fort Myers
Sanibel Island
Everglades National Park
Key West
GEORGIA
HAWAII
Kona
Volcanoes National Park
South Point

IDAHO
ILLINOIS

KANSAS
Wichita
Monument Rocks National Natural Landmark
KENTUCKY
Daniel Boone National Forest
LOUISIANA
MAINE
Acadia National Park
West Quoddy Head Lighthouse
Campobello Island (Canada)
Bangor
St. Croix Island International Historic Site
MARYLAND
Chesapeake Bay
Ocean City
MASSACHUSETTS
Mystic Seaport
Cape Cod National Seashore
Boston

MICHIGAN
MINNESOTA
MISSISSIPPI
MISSOURI
St. Louis
Johnson Shut-Ins State Park
MONTANA
Missoula
Glacier National Park
Waterton Lakes National Park (Canada)

NEVADA
Las Vegas
Valley of Fire State Park
Lake Mead National Recreation Area
Hoover Dam
Reno

NEW HAMPSHIRE
Franconia Notch State Park
NEW MEXICO
White Sands National Monument

NEW YORK
New York City
Adirondacks
Old Forge
Niagara Falls
NORTH CAROLINA
Great Smoky Mountains National Park
Asheville

NORTH DAKOTA
Theodore Roosevelt National Park
OKLAHOMA

PENNSYLVANIA
Pittsburgh
Hershey's Chocolate World
SOUTH CAROLINA
SOUTH DAKOTA

TENNESSEE
TEXAS
Big Bend National Park
Austin
UTAH
VIRGINIA

WASHINGTON
Seattle
Mt Baker
Crystal Mountain
WEST VIRGINIA
WISCONSIN

WYOMING
Yellowstone National Park
Grand Teton National Park
While we didn't make any major stops in 10 states on this trip (Connecticut, Delaware, Iowa, Indiana, Nebraska, New Jersey, Ohio, Oregon, Rhode Island, Vermont), we drove through and experienced each and every one!
Weekly Recaps and Posts from the Road
One day I will finish these. I promise. But until then, you can view a portion of our weekly U.S. road trip re-caps or view all of my posts from our U.S. road trip.
---
How many U.S. states have you visited? Which one was your favorite? Let us know in the comments below!
[mc4wp_form id="9400″]