During our two-week stay in Milan, we took a day trip to Como, following the recommendations of several Italian locals we've met on our trip. And what good advice it was! A nice change from the hustling city, Como had a relaxing feeling in the air.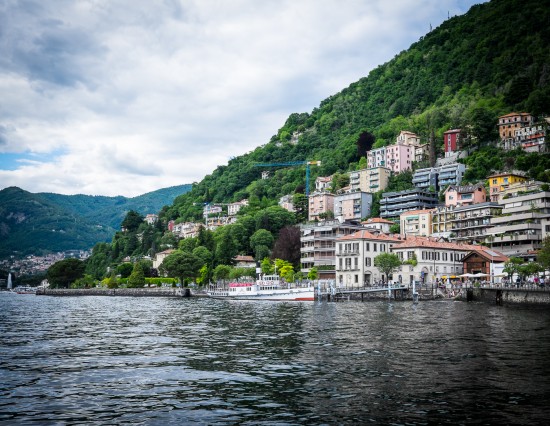 Swans swimming in Lake Como certainly added to this lakeside town's charm.
GETTING TO COMO FROM MILAN ON PUBLIC TRANSPORTATION
Milan's public transportation websites: atm.it / trenord.it
Our trip from Milan to Como on public transportation was reasonable at only €4.55 each way (plus €1.50 to first get a 90-minute urban ticket to get to a departing station). If you want to ride first class, it costs a bit more.
I recommend viewing the Regional Railway map on the Trenord website to plan your route. Trains run every 1-2 hours. Timetables should be posted at your departing station.
We took the regional railway from Milano Cadorna through Saronno and up to the Como Nord Lago station, conveniently located just south of the lake and close to the Como Cathedral (Duomo di Como). When we arrived in Como, we looked at the timetables for our return trip so we could plan on a time to return to the station (and not miss the last train!)

Como Cathedral exterior
Unfortunately when we were planning our day trip, Google Maps wasn't displaying fully accurate options on Milan's public transportation system. (The Metro lines weren't showing up correctly during our stay in Milan.) I recommend checking atm.it or looking at the timetables at the station.
A POPULAR DESTINATION FOR LOCALS, TOO
Como definitely sees its share of the tourist crowd. After all, it is the home of George Clooney's Villa Oleandra, and Star Wars fans may recognize Como from scenes shot in "Naboo." But we discovered that more than just tourists take advantage of Como's beauty. Our Airbnb host spent both weekends sailing in Como the two weeks we were there!
Walking around the lake, we noticed several locals hanging out on the grassy hill next to the walking path around the lake. Seems like the perfect way to enjoy a nice day: on the grassy hillside with a lake view, lounging around with your lover or a good book.
A SHORT HIKE
After strolling around the lake, we found a staircase that led up the hillside, so we went exploring!
The views got better as we made our way up.
COMO CATHEDRAL (DUOMO DI COMO)
The Como Cathedral (free to enter, unlike other cathedrals in Italy) was a nice treat. We enjoyed wandering around both inside and out.
If you want to light a candle, it's just €1.
In the courtyard outside the cathedral, teenagers were kicking a ball around and blasting "We Are the Champions" by Queen. I hung out on a bench while Ian took a hyperlapse of the cathedral.

After finishing our full day's visit to Como with some gelato, we hopped on the train back to Milan.
View all the photos from our day trip to Como in the gallery below.
[nggallery id=17]