Hey, guys. I'm Tiger, and since I'm the whole reason my parents decided to do vanlife, I wanted to introduce myself and tell you about some of my favorite dog-friendly features of my new van.
Campervanning with a big and fairly old wise dog like me requires some extra planning and considerations, so we made a lot of choices to make vanlife easier for all of us.
Open Floor Layout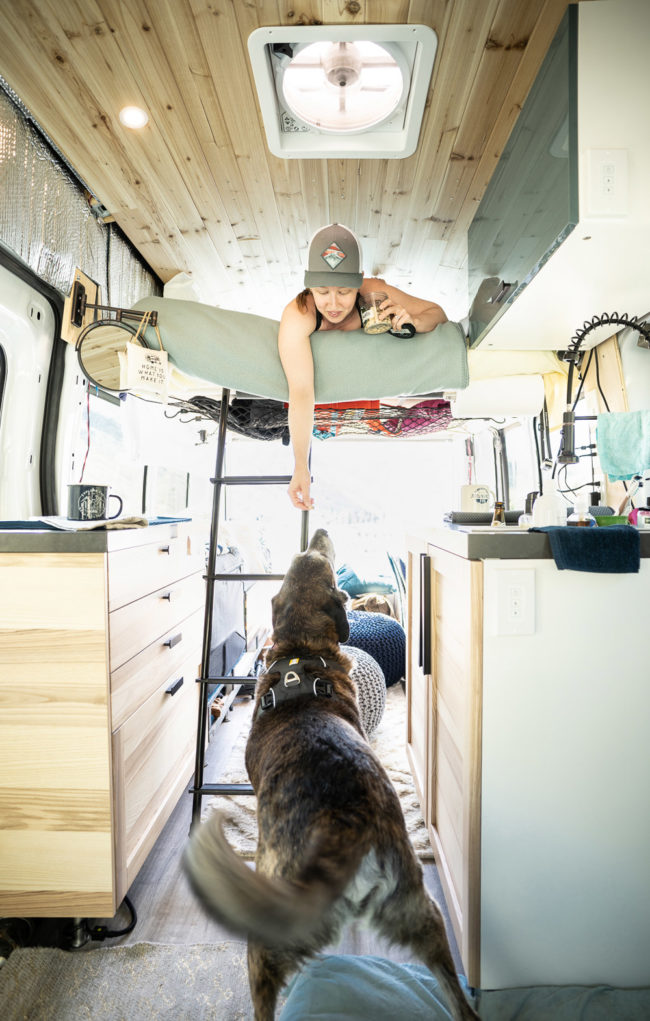 The whole van layout was planned with extra space for Tiggy in mind. I'm an 80-pound 12-year-old drooley bumbling lump of fur, so I need plenty of space to stretch out and wag my tail.
My humans laid out their van with a lofted human bed so I have space to walk from front to back as I please. The loft ladder is removable, so it's only installed when the humans are up there.
Not only is there no human bed in my space, but the storage benches and cabinets in the van are all built on adjustable feet instead of all the way down to the floor. There's a 4″ gap under everything, which gives me extra room to stretch out my paws for a comfortable daytime snooze anywhere on the floor.
Dog Bed Space
I have a brand new dog bed that is super comfy; my humans bought it for me when I dug a hole in my old one. They cover the new one in a custom-sized pillow case, so I can't ruin it when I'm making my bed. They like it because it's easy to remove the pillow case for washing to keep the van and a Tiggy clean.
I like my bed because it makes me feel safe, comfortable, and at home. In fact, it's the same one I have at home — minus the big hole I dug in that one, of course.
My bed has a special spot in the front of the van right behind the driver's seat, for while I get used to van life. Later, the shower will go in this space, and I'll get upgraded to the back of the van with a dedicated AC blower and better views out the rear windows.
Dog Ramp
I'm 12 now, and my legs can't jump like they used to, so I have a special dog ramp that helps me in and out of the van. I don't have to jump up or down the big step every time I go out to potty, so that gives me more energy for doing things I love, like smelling new places, chasing squirrels, making new human friends, and rolling in smellies.
Harnesses and Leashes of Various Lengths
I can't do repeated jumps, but I definitely can and will jump out of the van if the door is open and it suits me. There are lot of good reasons for that, like ground squirrels taunting me, big scary dogs that might eat my humans, and people who blow their noses funny.
To help with the unpredictability of my actions, my humans have a long cable that they use to clip my harness to the van, so I can't get too far if I go flying out without permission. It also works well for quick potty breaks when there are no immediate threats outside. I have a shorter cable, too, which attaches my harness to a D-ring above my bed and acts like a seatbelt for me when we're on the move.
Speaking of harnesses, I got not one but two new ones for van life!
One is a harness with a handle which helps lower me down big steps when I don't have my ramp and makes it easier for my humans to hold me back if I see something that gets me too excited.
The other harness is lighter and is probably harder for me to escape from (not that I really try that funny business anymore). It has a special pouch for my nametag and an extra loop to attach a nightlight to, but it doesn't have a real handle.
My humans and I are testing them both to see which one we like best.
High-Sided Dog Bowls
My food and water bowls are a little bit different from what I use at home. They're mixing bowls with taller walls for fewer slobbers, like this one. The bottom is rubberized so it slides around less.
My humans thought about installing my water bowl in a fixed location, but we all decided we prefer the flexibility of just moving it around where we need it. Since it is easy to tip over due to its shape, we keep my filled water bowl on the sliding door step when it's not breakfast or dinner time (when I have my bowl out for a big long drink). There it can only tip over in one direction, since it's protected by the step walls and the sliding door on all other sides. It has only tipped over once there, when my dad was driving, but it wasn't a big deal because it was all contained to the plastic step.
Solid Supplements
Instead of the messy salmon oil I have on my breakfast at home, my parents got me some expensive salmon oil treats. They're soft and probably really delicious, but I swallow them whole and don't really taste them.
Cleaning and Grooming Supplies
Of course my parents did stock up the van with a few extra things for grooming and easy cleanup of my common messes:
And every morning I get naked and get a thorough brushing to remove all of my loose furs before we head out on that day's adventures.
The humans worked hard on the van build, but I put a lot of hard work into it, too. I logged countless hours of supervising during the conversion, and I wasn't afraid to get my paws dirty either.
Now I'm excited to finally be on the road and enjoying vanlife with my humans.
If you want to hear more about our adventures in the van, including more posts from my point of view, don't miss our upcoming VanLife Chronicles!
VanLife Chronicles
Stay tuned for more #vanlife updates and photos from the road in our VanLife Chronicles blog post series.
Keep an eye on our Facebook and Instagram for even more stories from the van. If you haven't already, subscribe to our newsletter for occasional email updates from our adventures — including our campervan tales.
As always, thanks for reading, watching, and following!