*Photo: "Poas Volcano 2" by Sergio Quesada (license: CC BY-NC-SA 2.0. Photo has been cropped and text added.)
A visit to Poás Volcano can be a gamble due to potential view-obstructing fog, but it's a cheap enough risk to take. Despite thick fog during our visit last week (thus the borrowing of another photographer's image for this post), Ian and I still had an enjoyable time in Poás Volcano National Park.
Here we share an overview of our rainy visit to Poás, including instructions for how to get there affordably bus, a list of what to take with you, plus photos from our foggy trip! 
What You HOPE It Looks Like vs. What It ACTUALLY Looks Like on a Foggy Day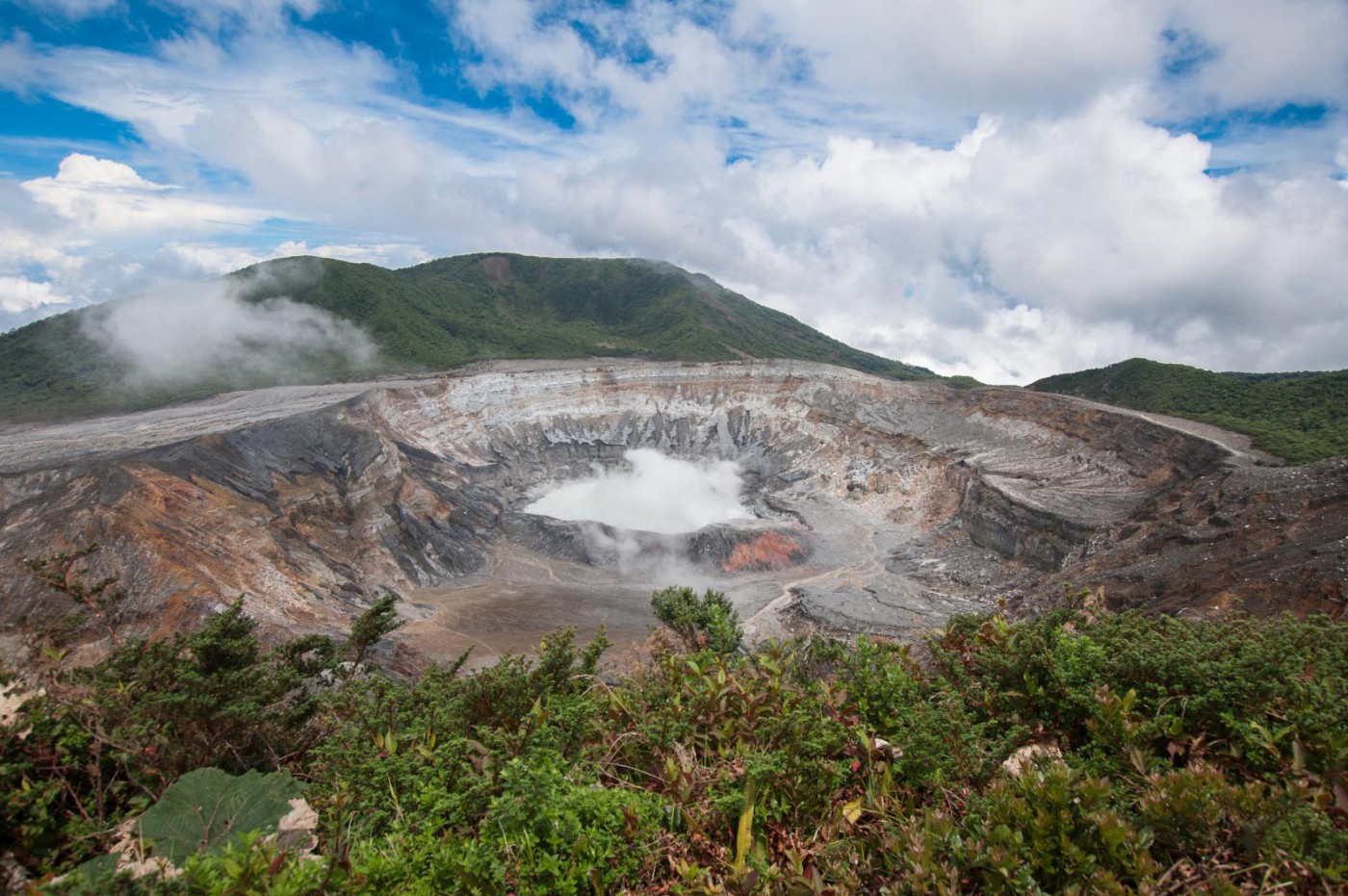 Volcán Poás: An Affordable Tourist Activity
With an admission price of only $15/person ($10 during "low" season), Volcán Poás (Poás Volcano) is a great Costa Rican destination to visit on a backpacker's budget. It's even more affordable if you don't pay for private transportation (taxi, shuttle, etc.).
A bus from Alajuela to Poás is just a little over $2 (USD) each way.
Cost of Admission and Bus Transportation to Poas Volcano
We originated in Heredia, where no direct line is offered to Poas, so we took the TUASA bus to Alajuela first. Below is the cost breakdown of our Poas excursion. Assuming you're coming from somewhere in the Central Valley (San Jose, Heredia, Alajuela, Cartago), the cost of your trip should be similar (and if you go during low season, it will be $5 cheaper!)
Overall Excursion Cost:
~$22 USD* (10,930 colones)
*includes high season entrance fee plus departing and returning bus fare originating from the Central Valley
Excursion Cost Breakdown:
Bus (Heredia –> Alajuela): 535 colones ($1.07 USD)
Bus (Alajuela –> Parque Nacional Volcán Poás): 1180 colones ($2.36 USD)
Admission (Parque Nacional Volcán Poás): $15 USD*
Bus (Parque Nacional Volcán Poás –> Alajuela): 1180 colones ($2.36 USD)
Bus (Alajuela –> Heredia): 535 colones ($1.07 USD)
*can be paid in colones, USD, or with a credit card
How to Get to Poás Volcano by Bus
Bus travel can be tricky within Costa Rica if you don't know what you're doing. Google Maps currently doesn't work for searching directions via public transit, but the stops ("paradas") are generally labeled on the map with the name of that stop's final destination.
You can catch a bus to Volcán Poás from San José or Alajuela.
Note: With departing times mid morning (8:30 and 9:15, respectively), it's possible to originate from elsewhere in the Central Valley (e.g. Heredia, as we did) to connect to the bus to Poás.

There's only one bus that departs from each location each day (see above), so make sure you don't miss it! We departed from Heredia at 7:50 and arrived at the TUASA terminal in Alajuela around 8:50. Though the bus to Poás is nearby (within two blocks), we were glad to have the extra time, because we headed in the wrong direction at first.
I recommend looking up bus stop locations on Google Maps before you leave. This can be tricky because a search for the name of the stop may not pull up the result you're seeking, but if you zoom in on a general area to find the bus stop symbols, you'll find they'll be labeled with something like "Terminal TUASA Heredia" (the last stop for our bus from Heredia to Alajuela) or "Parada Buses Volcán Poás" (one block south, where we caught the bus to Poás). The bus stop markings have been accurate so far on our excursions around the Central Valley.
We use Google Maps on our phones to save offline maps with marked locations before departing. GPS works without a cellular or data connection!
The bus from Alajuela to Poás is a full-size bus, but it was nearly full, so giving yourself some extra time to get in line will ensure you get a good seat for the 1.5 – 2 hour ride.
What to Bring to Poás Volcano National Park
You don't need much for this trip. You'll reach the main crater viewing point in about 10 minutes along a flat, paved path. Then a 50-minute, mostly-paved loop hike is required to get to the second crater. Public restrooms and warm drinks and snacks are available.
Here are the essentials we took to Poás:
credit card (use at the admission office and gift shop)
cash (colones — small bills or coins — for busses)
walking shoes (no sandals or flats!)
camera
Like my camera strap? Learn how to make this comfy DIY scarf camera strap over at Stylish Travel Girl!
daypack (Any backpack will work — just something small to hold your rain gear. I like our ultralight daypack, which fits in my purse when we're not using it.)
Though we didn't think of it, I wish I'd put on sunscreen. My nose got sunburnt, even through the fog layer!
I've heard others recommend taking an extra pair of socks in case of rainier weather. I wore mesh running shoes and kept my feet dry despite light mist and rain throughout the day, but socks might be a good idea since they don't take up much room. I don't recommend relying solely on an umbrella; while it will help with rain, your legs will likely end up wet from the moisture in the air.
Visiting Poás Volcano National Park in the Rain
I'll leave you with photos from our trip to Poás, on our unfortunately foggy/rainy day.
What's there to enjoy on a crappy day?
native plants (check out the "poor man's umbrella")
squirrels and birds
a nice tree-covered walk to the Botos crater
visitor center with educational displays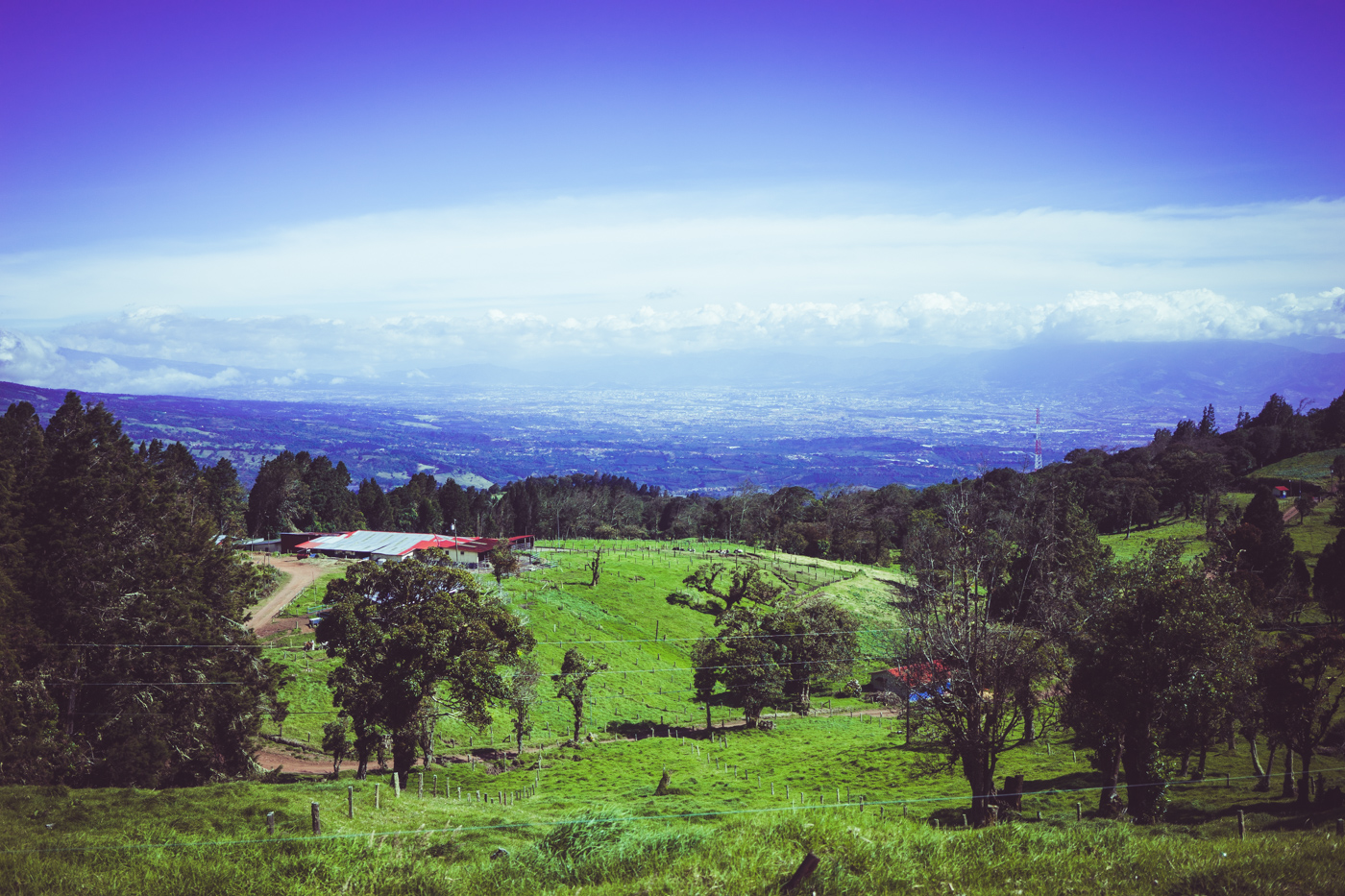 It's safe to say we had one key takeaway from this excursion…
I can't emphasize this enough:
Despite what the weather looks like heading up, TAKE YOUR RAIN GEAR TO POÁS VOLCANO!
Otherwise you may get stuck seeking shelter under a "poor man's umbrella."