Fancy a snorkel in one of the Hawaii's best snorkeling locales? If you're staying on the Big Island, you don't want to miss "Two Steps." It's a laid-back beach snorkel destination with abundant sea life less than 40 minutes south of Kailua-Kona. And it's free!
Continue reading for more info on snorkeling at Two Steps, plus a video from our visit.

What to Pack
For an easy day at Honaunau Bay, pack your snorkel gear, sunscreen, and a bottle of water. And unless you've got an underwater camera, leave your electronics in the car. There's nowhere to change comfortably (just port-a-potties), so have your swimsuit on when you arrive.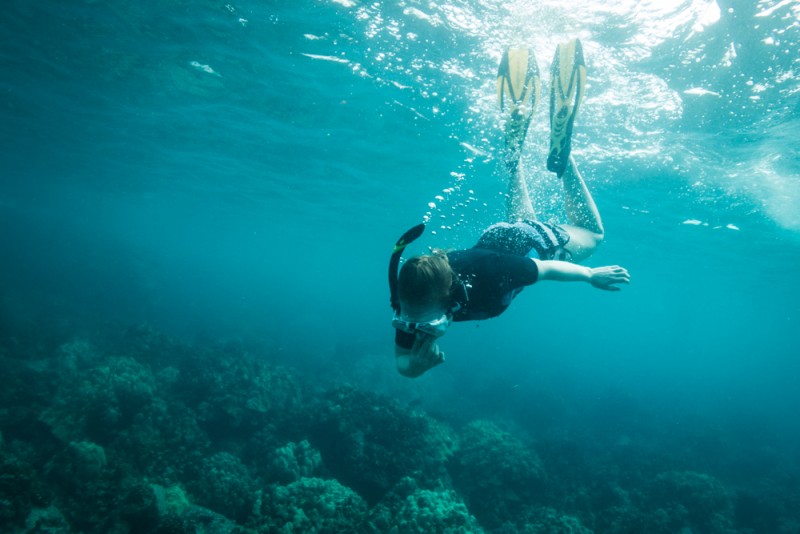 Getting There
Directions
Get to Honaunau Bay by navigating to Two Step diving & snorkeling, 84-5571 Honaunau Beach Road, Captain Cook, HI (Google Map).
Parking
There's free parking at Honaunau Bay across from the entrance to the short one-way road that leads to the beach. Park and walk down that one-way road, less than 1/10th of a mile, and stake out your space on the lava rock! You can also park for $5 either at the beach (down that one-way road) or at the National Historical Park that's right next to Two Step that shares the bay with this popular snorkel and dive destination.
Entering the Water
The best place to enter is at Honaunau Bay's natural "two-step" entrance spot (yes, it's called that for a reason). It's the furthest point out on the lava rock beach. You'll likely see a group of people gathered here — snorkelers and maybe divers — both entering and exiting. Step down and sit on the rock to put your fins on, then easily slide in and swim straight out to avoid the reef on either side. Note: Entering and exiting can get a tad dicey if ocean conditions are rough. Take a moment to time your entrance so the surge doesn't send you right back to the steps. And take care on exiting, too!
What We Saw
We snorkeled here on two occasions in January, and here's what we saw:
long-spined sea urchin
slate pencil sea urchin
coral
snails
yellow tang
Achilles tang
orangeband surgeonfish
butterflyfish
parrotfish
eel
Picasso triggerfish
Whiteline triggerfish
trumpetfish
Video: Snorkeling at Two Steps
We also heard (but didn't see) a dolphin. (According to the Internet, they're known to rest in this bay.) And we didn't see any sea turtles, though they're known to hang out by the National Park side of the bay.
While You're There
I highly recommend checking out Pu'uhonua o Honaunau National Historical Park while you're there. It's literally right next door. If nothing else, just take the 15-minute walk around the property! (Note: You can't snorkel in the park area.)
More Info and Resources
If you go snorkeling in Honaunau Bay — or anywhere else in the world for that matter — be a responsible tourist. Don't bother the dolphins if you're lucky enough to see them resting there, and watch where you step! Sea urchins are common near the Two Steps entrance point.
While I've only been snorkeling at Two Steps twice, I found tropicalsnorkeling.com to have some helpful info that you may find useful, too.
Underwater Photography and Video
All photos and video were taken with my Sony RX100 III (my traveler's review) in the Ikelite housing (B&H Photo), paired with the W-30 Underwater Wide-Angle Conversion Lens (B&H Photo).
Photos were edited using the 'Gluon' Lightroom preset in The Quantum Collection free preset pack (photoncollective.com).
---
Are you a fellow underwater explorer? What are your favorite snorkeling destinations in the world? Tell us in the comments!