As budget travelers, we search for budget accommodations (on average $600 or less per month). But that doesn't mean we're frequenting skeezy hostels or crappy motels. Even a year after quitting our jobs to travel, we've continued to avoid the summer camp housing scene. If you're searching for a way to make travel more affordable without kickin' it bunk-bed style, Airbnb could be your answer.
If you're searching for a way to make travel more affordable without kickin' it bunk-bed style, Airbnb could be your answer.
To sustain our traveling life, we book most of our accommodations through Airbnb, a website I HIGHLY recommend for finding unique and affordable places to stay. It's especially great if you're traveling to an unfamiliar place, as a helpful host can be priceless when you're exploring someplace new. We typically book what I refer to as a "home away from home" — a private room in a local family's house or apartment — but you can find everything from private vacation rentals to shared rooms to traditional bed and breakfast inns on Airbnb. They even have some crazy cool accommodations like tree houses and geodesic domes!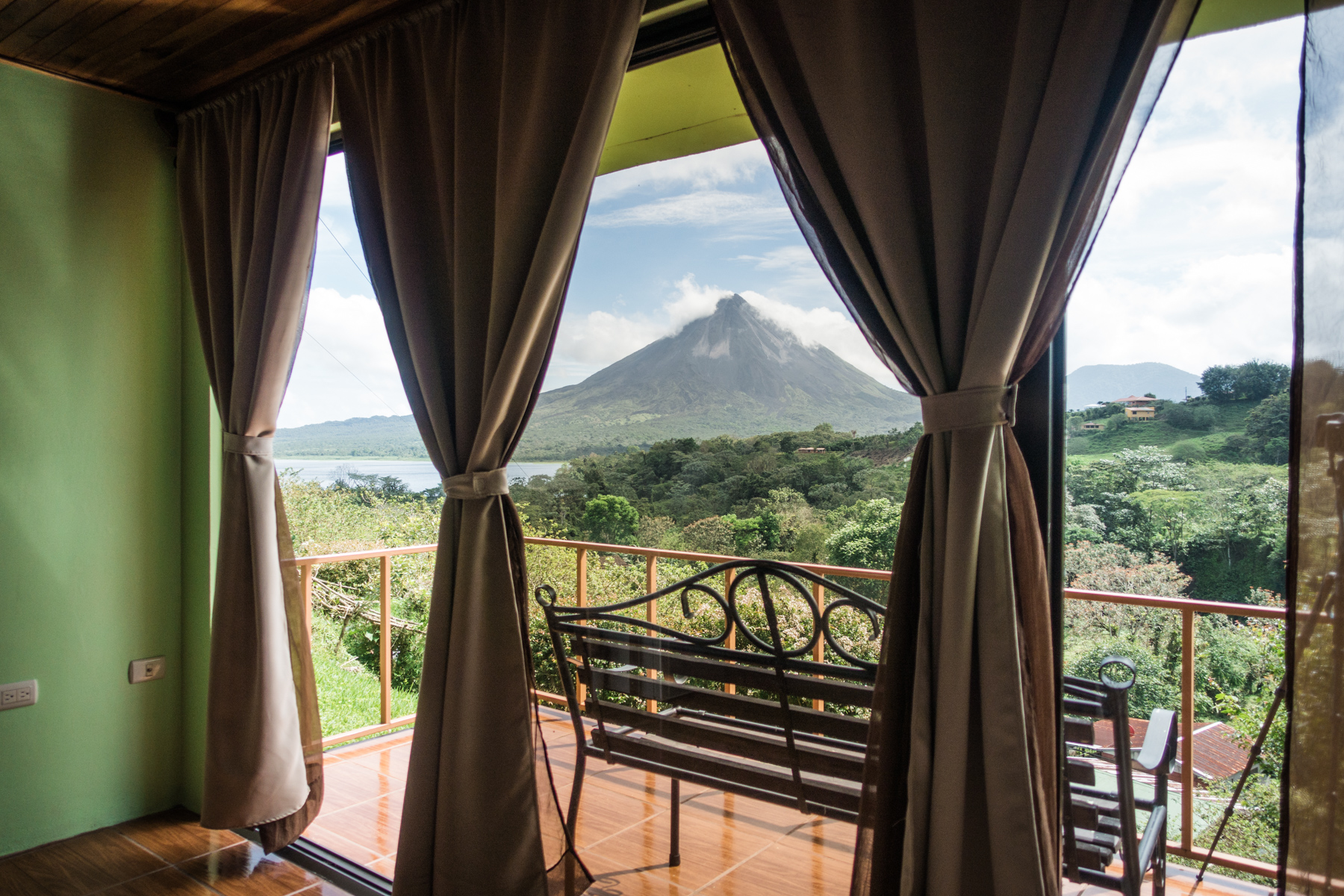 You don't have to be a full-time traveler to use the site, either. Though many of our bookings have lasted a full month, several of our Airbnb stays have been short-term. You can find a place for as short as one night or as long as several months, in a wide range of prices, with a variety of unique perks and amenities. Many are family-friendly, too! I promise you it's at least worth taking a peek.
Use our link to support our travels: If you sign up for Airbnb through our link, you'll get $20 off your first booking! We'll also get $20 in rental credit if you book and $80 if you host. Thanks for clicking!
Budget Travel Accommodations on Airbnb
Tips for finding a comfortable, safe, and affordable place to stay
Choosing a place on Airbnb can be tricky, as options vary widely by destination. Want to ensure you find the best Airbnb accommodations for you? Sign up or login and take our advice:
1. Take time to complete your profile — Make sure you've filled everything in. A clear photo of your face is VERY important on Airbnb. As a potential guest, it will help you to get more positive responses from hosts when you submit a booking inquiry. Same goes for if you're hosting on Airbnb. Even if you're listing an entire space and will never meet your guests face-to-face, you should absolutely have a photo of your face.
2. Contact host(s) before requesting to book — Search for your preferred location and booking date. When you've found a place you like, instead of using the "Request to Book" link (where you'd put in your credit card and be charged upon host approval), scroll down to locate the "Contact Host" link instead. Your inquiry form will populate with the dates you've requested. Introduce yourself and why you're visiting, and ask any questions you have that aren't answered in the listing. Ask about the neighborhood, public transportation, fridge space — whatever may be important to you during your stay. The host will then be able to respond with a "pre-approval," allowing you to complete your booking (if you're still interested) within 24 hours.
Note: Requesting to book right off the bat isn't a bad idea, as long as your host's listing and profile are so complete that you're positive you want to stay there without asking questions. If you go this route, make sure to get the conversation going as soon as you've booked.
3. Choose a place with a responsive host — A responsive host make the process run smoothly. If they have a low response rate, or it takes a long time to get a half-assed response, skip that listing and find a better one. If they're labeled as a "superhost" that means they've hosted frequently (a minimum of 10 times in the last year) and have received a 5-star rating on at least 80% of their reviews.
4. Be a responsive guest — After you get a response from a host, make sure you respond in a timely manner, too. Be sure to answer any questions they had for you. If they took the time to write you a thoughtful response, THANK THEM FOR IT, even if you're no longer interested in staying there.
5. Choose a place with good reviews — This is the best way to ensure you make a good Airbnb selection. Unless a place is freshly listed, it should have some reviews. Scroll down near the bottom of the listing and make sure the star-ratings are high (4.5+). Read through what past guests had to say after their stay. If a place is new, it shouldn't be a deal breaker, but make sure you get all of your questions answered before you book.
6. Look closely at the photos — Read the captions, too. Some listings will show photos of things to do in the area. Make sure there's a photo of the room and bed where you'll be staying. The best listings have all photos clearly labeled with a caption, and there are enough photos to give you a good idea of what their place is like. If the listing is for a private bedroom but it shows photos of multiple bedrooms, be sure to ask which one is being rented. Ask the host about any possible discrepancies between the listing and the photos.
7. Be clear about the living situation — There are a wide range of housing options available on Airbnb. Entire homes, private rooms, and shared rooms are all possibilities. If the listing says "entire place" that should mean you'll be the only one accessing the space during your stay. If it says "private room" find out who else lives in the house or apartment. That should be made clear in either the listing or the host's profile, but sometimes it's not totally obvious. Are you staying with a family? Is it a multi-bedroom apartment with several adults living there? In some cities you'll find Airbnb is used similarly to Craigslist, where a bedroom is listed when a roommate moves out. In other places you'll find a very people-oriented host that may offer free breakfast each morning of your stay.
8. Find a place you can get to easily or cheaply — Sometimes transportation costs can be a deal-breaker when you're booking a place on Airbnb. If you're flying in, ask the host what the best method is for reaching their place from the airport, and how much it will cost. Let them know whether you prefer affordable public transportation or a taxi/shuttle. Some hosts may even offer to pick you up from the airport when you arrive!
9. Take advantage of the neighborhood guides — Airbnb has put together some fantastic neighborhood guides for a few select cities. The guides tell you more about the neighborhoods within a city and also include photos of landmarks and everyday life in the area. If you're traveling to one of them, use these to help you decide where to stay.
Places We've Stayed on Airbnb
Curious where we've stayed? Check out our list of Preferred Accommodations. I would recommend all of these places and hosts to any budget traveler. Some are possibly the best places to stay on Airbnb! The hosts are all friendly, the accommodations are affordable, and each one can easily make you feel at home. You can also view our list of past Airbnb accommodations on Airbnb.
Want to Get Into Hosting on Airbnb?
If you're new to Airbnb and want to be a host, we're happy to help!  Sign up for an account, and ask us for suggestions on how to make your listing amazing. Get off to a good start with "How to Be a 5-Star Host on Airbnb."
Don't stop here — Check out more of our budget travel secrets!
This post was handcrafted for you during our travels in Costa Rica.