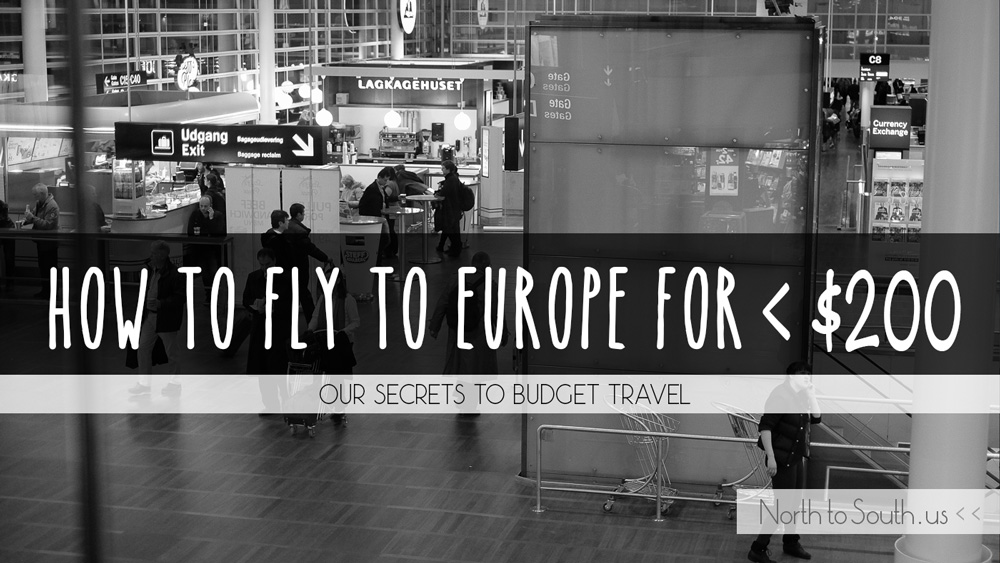 Updated: January 2020
I used to expect to pay over $1000 for round-trip tickets to Europe. Now I'd never pay over $500. And one-way tickets for $200 or less are more common than you'd think. When we started traveling full time, our frugal beginner's travel budget forced us to find the cheapest method to fly to Europe. And now I'm sharing it with you.
Traveling on the cheap from the U.S. to Europe is quite simple, really. It involves just three things:
a flexible travel schedule
packing light
my new favorite airline
Our Secret to Finding Cheap Plane Tickets from the U.S. to Europe
Now it's time for the big reveal. Ladies and gentlemen, allow me to introduce you to Norwegian Air! They've got plenty of sub $200 options, flying out of Los Angeles, Oakland, New York, Ft Lauderdale, and Orlando. We flew into Copenhagen from Los Angeles on Norwegian on March 2nd of 2014, which happened to be their first flight on that route, we were completely satisfied with our experience.
Now, Norwegian is like an old friend we rely on and return to whenever we're booking flights for a new European adventure.
We flew to Europe via Norwegian again in April 2016. Check out our itinerary for inspiration for your trip. We also booked a Norwegian flight to London in May 2017 for <$200 per ticket!

Now, in 2020, even more affordable routes have been announced, including Chicago to Paris for $139 (as of Jan 2020).
Why is it so cheap? For starters, there are very few perks included in their base fare price. No seat reservations. No meals. No checked baggage. All those things can be purchased, but if you're trying to be frugal, you'll find a way to live without them. We packed two carry-on bags for our 3-month trip to Europe and fared just fine!
If you're worried about sitting together, you can pay extra to reserve your seat. However, we've found that if you arrive at the airport early enough, you'll likely be seated together anyway — without shelling out any extra dough.
Want to pack lighter & more organized? Read "Intro to Packing Containers: Organize Your Carry-On in 4 Steps!" on my women's travel blog, Stylish Travel Girl.
Norwegian's U.S. departure airports are limited (there are 16, as of January 2020) but growing. If you don't live near one of them, you'll have to book a connecting domestic flight on another airline. Depending on where you need to connect from, the ultra-low Norwegian prices may still make it worth it.
Norwegian offers cheap flights to Europe from:
New York City (JFK, EWR, SWF)
Los Angeles
San Francisco / Oakland (SFO, OAK)
Seattle
Boston (BOS, PVD)
Chicago
Denver
Austin
Fort Lauderdale
Tampa
Orlando
Miami
Updates
JANUARY 2020: Norwegian has even more new routes, all around or under $200 (e.g. Chicago to Paris for $139).
MARCH 2017: Norwegian announced new flights out of smaller U.S. airports, including Baltimore/Washington (BWI), Connecticut/Hartford-Bradley (BDL), New York/Newark Liberty Intl (EWR), New York/Newburgh-Stewart (SWF), and Providence/Boston-TF Green (PVD).
Booking Tips (New)
Book as early as you can. (If you want to get a good deal on summer travel, book in January to enjoy the low rates.)
Play around with Norwegian's new route map to find all the destination options from an airport near you. Be sure to try different months. They may have zero options some months and several in others.
Search for deals you can afford on Norwegian's destinations page by entering in your airport of choice and then setting your budget. (Tip: select the option that includes nearby airports — e.g. 'SFOALL' instead of SFO — when typing in your airport in the search bar.)
When we booked our first flight with Norwegian back in 2014, their cheapest flights were to/from Scandinavia, departing from five U.S. airports.
Norwegian has since expanded to offer more affordable flights to a variety of European cities, and many are still less than $200.
In general, the most expensive part of a flight from the U.S. to Europe is the part that gets you across the ocean. If you can't find an affordable route to your European destination of choice by booking with Norwegian alone, experiment with getting to Europe on Norwegian and then flying within Europe on an affordable airline like Ryanair or EasyJet. You can also use CheapOair to compare prices on multiple airlines.
Want more tips for planning a budget trip to Europe? Read How to Stretch Your Euro Trip Budget: Booking Strategies to Save You Money.
A Sample of Cheap Flight Options on Norwegian
Searching today (January 1, 2020), here are some of the best one-way flights I found on Norwegian:
Los Angeles to Barcelona / $179 (October 2020)
New York to Athens / $140 (April 2020)
San Francisco to London / $159 (September 2020)
Boston to London / $139 (September 2020)
Chicago to Paris / $139 (May 2020)
If you're booking at a popular time (e.g. springtime) for future travel, booking further in advance may be required to get a good deal. (Flights departing October/November through March/April will likely be the cheapest at that time.) If you're booking in fall for travel in spring, deals are usually pretty great!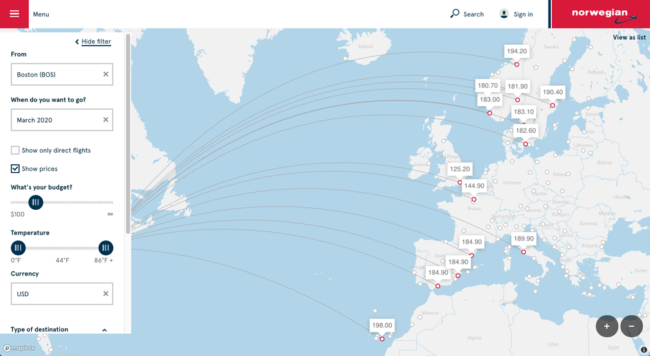 We started looking for tickets in January 2014 for our March flights from LA to Norway (our 'jumping ship' trip that kicked off life as we now know it). Three, four (or more) months of advance purchase time got us cheaper tickets.

Tips for Finding the Absolute Cheapest Flights to Europe on Norwegian
Keep your travel dates flexible and use their low fare calendar
Search multiple destinations to find the cheapest place to get to
Book several months in advance (prices go up a LOT as the plane fills up)
Avoid peak seasons (summer seems to be the most expensive travel time)
Search options from late fall (November) through spring. They'll likely be cheaper.
Try different departing airports
I hope this article has helped you realize just how affordable travel can be! And guess what!?! We've got a few tricks up our sleeves for an affordable stay once you've reached your destination!
Once you've booked your flight, find the cheapest transportation options within Europe in Europe Trip Planning: How to Book Affordable Transportation in Europe.
More Cheap Flights from North to South
More Travel Tips and Secrets
[mc4wp_form id="9400″]
Thanks for reading, and good luck with your budget travels!