Alaska is a BEAUTIFUL state. In fact, it's one of my absolute favorite states from our entire 2015 50-state quest. And there are a lot of things to do, even if you're visiting outside of the summer "tourist" season.
The most popular tourist season in Alaska is summer, with a secondary season in winter, but the time in between — the "shoulder" seasons — can seem pretty dead. That 28-glacier cruise only runs May through September. Dog-sledding tours near Anchorage don't run in fall or spring. And even the expensive polar bear excursions up north shut down post-summer. There's a lack of demand, so yes, the big tour companies that rely on big numbers shut down when the crowd thins, but there is still PLENTY to do in this awesome state outside the major tour company offerings.
We're currently in the midst of a two-week "offseason" trip to Anchorage — the last week of October and first of November — and we haven't run out of things to do yet. Here's a list of our favorites so far: 
Enjoy a Scenic Drive Along the Turnagain Arm on Highway 1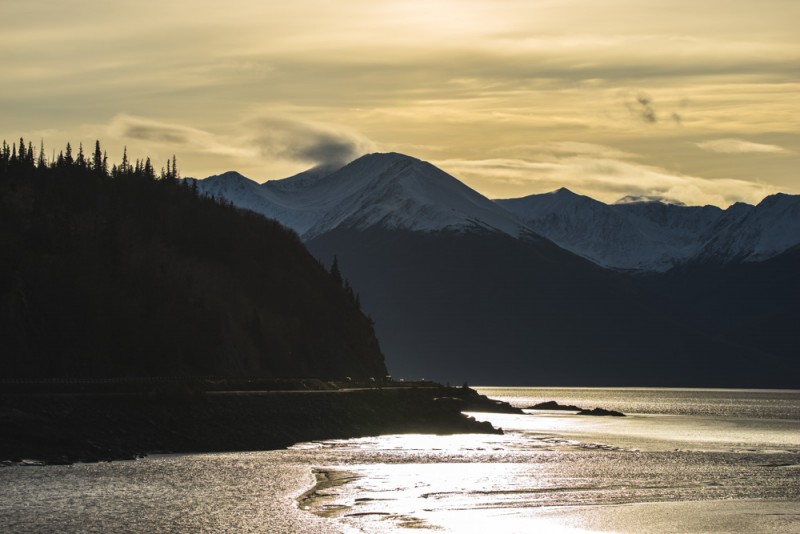 Drive Time: 1 hour of scenic beauty from Anchorage to Portage
Highlights: amazing views and hiking opportunities
Take in the scenic views! You'll drive this route to Girdwood and Seward (and any other southern destination), so you can tie this in on the same day or make a day of it. There are also hiking opportunities along Highway 1, if you want to make more of a day out of it.
Things we saw along this route:
the bore tide — This is seriously cool. More info here.
paddleboarders and kite surfers
gorgeous views in every direction, including glaciers, snow-capped mountains, and reflections in the water
Places to stop:
Chugach State Park — they say you can see dall sheep when hiking here! We took photos for my latest travel fashion outfit here.
Potter Marsh boardwalk — a nice walk to look for birds — find out which animals you can spot in each season here.
Beluga Point — one of the larger pull-outs with awesome views in both directions
Take in One of the Best City Views at Airport Park
Drive Time: n/a (located in midtown Anchorage)
Highlights: views of the city, shore, mountains and airport activity
Here's an activity to pass some extra time at any time of day — though it's particularly pretty at night. See the city from Airport Park, a small, easy-to-access lot in midtown Anchorage right next to the airport. Watch the city light up to the north as the sun sets, and view planes flying in toward the Air Force base over the ocean in front of you. You don't even have to get out of your car!
Explore the Hatcher Pass Wilderness
Drive Time: 1 hour 10 minutes from Anchorage
Highlights: mountain and forest scenery, hiking, wildlife, historic gold mining site
Holy crap, this was amazing! We'd originally planned to hike here in fall weather, sans snow, but it snowed halfway through our two-week trip, turning Hatcher Pass into a total winter wonderland. My winter boots did just fine in the two feet of snow there at the time, but hiking with a ski pole was necessary as we reached the steeper portion near the top. We parked at the bottom of the hill near the Hatcher Pass Lodge and hiked up to Gold Cord Lake in the snow, spotting the Historic Lynch Cabin on the way up to the lake. On the hike back we wandered around the historic Independence Mine park.
If you're not up for a hike, just driving through the Hatcher Pass area is beautiful, too. Keep an eye out for wildlife: We spotted a porcupine sleeping in a tree along the drive!
Note: Bring cash or check. There's a small fee ($5 in October 2015) to park.
Take the One-Way Tunnel to Whittier
Drive Time: 1 hour 20 minutes from Anchorage
Highlights: unique tunnel drive, mountain and marine scenery, Prince William Sound, summer tourist activities
This is definitely one of the most unique drives you can take in Alaska because the only way to access Whittier by road is via a one-way tunnel. The tunnel is only open in each direction for fifteen minutes of every hour (sometimes shorter in winter), so check the schedule in advance and try to time it so you don't have to wait long.  And look for bald eagles in the trees along the riverside portion of your drive. We spotted several!
Note: There's a $13 round-trip tunnel toll, payable by cash or credit card. Tolls for larger vehicles here.
Visit the Anchorage Museum
The Anchorage Museum was MUCH better than I expected it to be. It's a perfect activity for a rainy day, with lots of activities for kids, too. While it has the traditional museum feel in the Alaska Gallery where they have ample opportunities to read about and view items from Alaska's rich history, I was completely surprised and impressed with the eye-catching and interactive displays in the Smithsonian Arctic Studies Center (pictured above). And the current rotating exhibit, Van Gogh Alive, was an unexpectedly unique and exciting sensory experience — definitely worth the extra $5. Check out the Discovery Center for some all-ages interactive fun, including science experiments, bubbles, and turtles!
View current exhibits and prices on the Anchorage Museum website.
Search for Sea Life in Seward
Drive Time: 2 hours 20 minutes from Anchorage
Highlights: scenic fishing town, Alaska SeaLife Center, summer tourist activities, Exit Glacier nearby
Seward is a small mountainside fishing town, chock full of sea life. We spotted tons of sea birds and a seal on our visit, not to mention plenty of bald eagles hanging out in treetops in the late afternoon. There was also wildlife to see on the drive there, with trumpeter swans being a common sight in the marshy areas along the road. If you come in high tourist season (May-September), you can take a glacier cruise to the Kenai Fjord National Park area, or check out their dog-sledding operation (though not actually on snow, you are pulled by dogs). Any other time of year, fewer businesses will be open in town, but the Alaska SeaLife Center is open year-round. And in all seasons except for winter, you can head on over to Exit Glacier for a close-up glacier view (that's next on the list).
Hike to Exit Glacier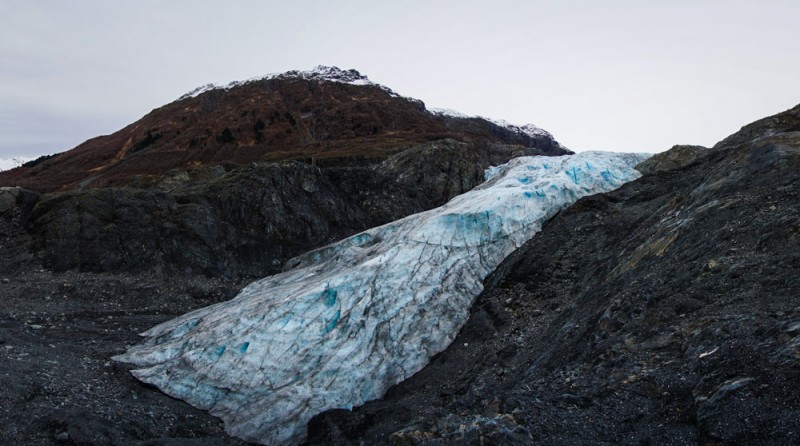 Drive Time: 2.5 hours from Anchorage; 20 minutes from Seward
Highlights: glacier view hike, wildlife
Don't be disappointed: you won't get THAT close to the glacier on the standard short hike (the glacier is gradually receding), but you can take a one-mile hike up to an awesome view (photo above) of this beastly glacier. Super outdoorsy folk can hike MUCH further up on the Harding Icefield Trail– all the way to the ice fields at the top above the glacier. More info on that here.
Note: The road to Exit Glacier is closed in winter conditions, so check for road closures before you go. If the road is closed, you will still have a view of it on the drive to Seward.
See the Northern Lights
Drive Time: varies
Highlights: an awe-inspiring light show in the northern sky
If you're visiting Alaska in a season with darkness, you should absolutely try to see the Northern Lights. It requires some planning and some luck — you should be in a dark place away from the city, skies must be clear, and the Lights must be active in order to see the — but it's truly amazing. If you have the opportunity, DON'T MISS IT.
Note: You don't have to go on an expensive viewing tour to see them. Just find a dark place — use the dark site finder map to find one — with relatively dark skies to the north, during a time when aurora activity is forecasted. We took the above photo while parked along a large highway pull-out near Portage (map here), located about one hour from Anchorage.
Go For a Walk in Earthquake Park
Drive Time: n/a (located in midtown Anchorage)
Highlights: ocean, city skyline, and airport views, moose-spotting opportunity
Take a walk through the trees and along the Anchorage shore in Earthquake Park. Make the walk as long as you like. The Tony Knowles Bicycle Trail runs all the way to downtown Anchorage.
Get Close to Wildlife at the Alaska Wildlife Conservation Center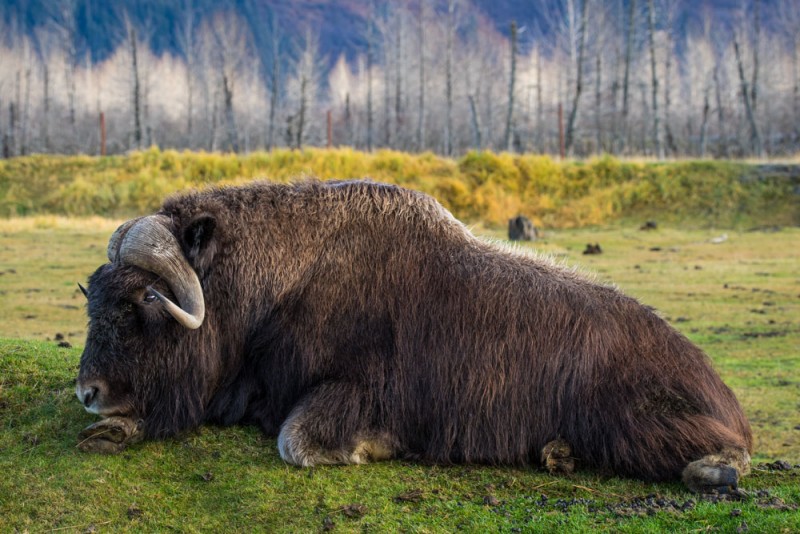 Drive Time: 1 hour from Anchorage
Highlights: easy wildlife photo opportunities
I love animals, so this was one of my favorite activities in Alaska. You can opt to drive or walk through the park, but if the weather is bearable, you should absolutely bundle up and walk for better views of the animals. Here we saw moose, elk, musk oxen (photo above), black and grizzly bears, wood bison, black-tailed deer, a red fox, wolf, bald eagle with one wing (poor thing), porcupine with three legs (didn't seem to bother him at all), and a couple of lynx. The Center is near Girdwood (next on the list), so you can do this on the same day if you want.
Note: There is an entry fee, but prices are reasonable.
Try Your Hand at the Girdwood Hand Tram
Drive Time: 1 hour from Anchorage
Highlights: ski town, hiking, summer-season tram, unique hand tram hike
A scenic ski town with some cool hiking opportunities. For a short and unique hike, you MUST hike to the Hand Tram! It's a one-mile easy hike out from the Crow Creek Road parking lot on the Winner Creek Trail, so the hike won't leave you exhausted, but the hand tram part might! A reasonable amount of upper body strength is required to pull yourself (and one other person, if you want) across Glacier Creek, 100 feet below. We hiked out to the hand tram, tried it out, and then went back the way we came. You can also hike to the hand tram from Hotel Alyeska.
In summertime, you can take an Aerial Tram ride (no human power required) up to the restaurant from the hotel.
Take in the Mountain Views from Talkeetna
Drive Time: 2 hours from Anchorage
Highlights: Denali view, riverside town, summer tourist activities
Okay, now this one is iffy, because if you go when it's cloudy, your view will kinda suck. On a cloudy day, you'll be lucky if you can see as much as we did the day we visited (photo above). So to do this one right, start by checking the weather forecast for Talkeetna, and if it's going to be cloudy then save it for another day. If the forecast is sunny, take a look to the north before you commit to this drive. If you've got a clear view in that direction, then it's a safe bet you'll have an awesome Denali view from Talkeetna that day. Otherwise you could end up driving here, parking and taking a short walk to the river for a mediocre photo, stop for lunch at one of the few open places in town (Denali Brewing Company has a delicious Sriracha gnocchi dish, good beer and yummy desserts), and then head home relatively unfulfilled. In summer, the local tour companies are open and you can take an air tour for glacier views, in addition to other outdoorsy activities.
Walk on Matanuska Glacier
Drive Time: 2 hours from Anchorage
Highlights: experience a glacier up close
Walking on Matanuska Glacier was definitely one of my favorite activities! There's a $20/adult entrance fee, but it's worth it for this totally unique experience. Seeing a glacier up close is SERIOUSLY cool. I had no idea there were so many variations in the ice!
From the parking lot, it's a moderately easy (though possibly muddy) hike down to the glacier. You won't realize you're even on the glacier at first, since the portion you'll first walk on will be covered in dirt and gravel, but as you walk you'll begin to notice the ice poking through. There are a few slick spots here and there, but you'll do fine walking on the gravel-covered parts — no special equipment required. After about fifteen minutes, you'll reach a sign designating the end of the marked trail. (There's a picnic table here, so if some of your party wants to hang out while the rest venture onward, that's an option.) While the signage recommends not to venture past the sign without a guide or experience in glacier hiking, it's not unreasonable to go further — just be careful and keep track of where you are! Soon you'll reach the truly icy parts of the glacier. At that point I (very carefully) climbed around on the ice without any special equipment, sometimes crawling or sliding on my butt when I was unsure of my footing.
Notes: Make sure it's open before you go! Contact and more info about Matanuska Glacier can be found on their website. If you're not comfortable going it alone or you want a more thorough glacier experience, guided glacier tours cost around $80/person (special equipment included), on top of the $20 entrance fee. I'm a relatively adventurous person, and I'd skip the guide… unless you want to give ice climbing a try or ensure you get the absolute best views.
---
I hope this list helps you fulfill all of your Alaskan travel dreams!
Planning a trip to Anchorage? Don't miss our post 7 Reasons to Visit Alaska in Fall.
Have you been to Alaska?
Help me add to the list!
We're already planning a return trip for next year, so let us know if you have any suggestions in the comments! (I've already got dog-sledding on the list.)
[mc4wp_form id="9400″]