We got off to a rainy start on week twenty two of our road trip, but the sun always comes out eventually in Florida. Walking on the uncrowded beach of Sanibel Island, airboating in the Everglades, and a three-night stay in Key West wrapped up our Florida time before we turned back north to begin our long trek back west.
Stops in Mobile, Jackson, and Little Rock spaced out this week's drive, and with only eight states left on our road trip itinerary, achieving our 50-state goal was now in clear sight!
Note: I'm still catching up on our weekly road trip re-caps! This one covers October 4-10.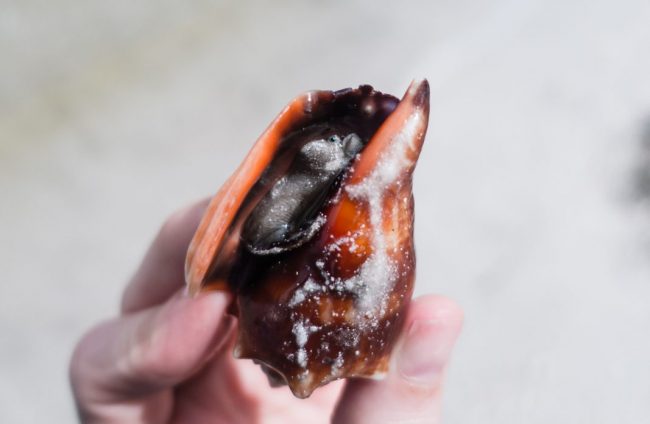 Follow us!
You can get an overview of our trip each week here on the blog, but we're posting more frequent updates of our cross-country U.S. road trip on Facebook and Instagram.
States Visited This Week
Florida
Alabama
Mississippi
Arkansas
A major highlight of this week was our airboating excursion in Everglades National Park. Zipping around through tree tunnels on the incredibly reflective water was the perfect activity for this partly cloudy day.
We did a quick Yelp search to find the best airboat tour in the Everglades, and despite booking on short notice and gambling on the weather, everything turned out great! We even spotted a gator — much bigger than the ones we'd seen last week in Anderson Park.
After the Everglades, we continued south for one of the coolest drives in America. Driving from island to island through the Florida Keys was pretty spectacular, and Key West — "home of the sunset" (and a bunch of chickens) — wasn't a bad place to spend a few days, either.
We booked a boutique hotel in Key West on Hotwire.com and were able to get a little bit of poolside work done while enjoying Florida's awesome October weather.
States Visited in Previous Weeks
Total States Visited So Far: 42
California, Nevada, Arizona, New Mexico, Texas, Louisiana, Mississippi, Tennessee, Arkansas, Missouri, Illinois, Wisconsin, Iowa, Nebraska, South Dakota, Wyoming, Idaho, Montana, North Dakota, Indiana, Michigan, Ohio, Pennsylvania, New Jersey, New York, Connecticut, Rhode Island, Massachusetts, New Hampshire, Maine, Vermont, Delaware, Maryland, Virginia, West Virginia, Kentucky, Tennessee, North Carolina, South Carolina, Georgia, Florida, Alabama
Stops/Landmarks
Sanibel Island, Florida
Everglades National Park (Florida)
Key West, Florida
Mobile, Alabama and the U.S.S. Alabama Battleship Memorial Park
Jackson, Mississippi
Little Rock, Arkansas
Highlights
Laughing at the chickens in Key West — They're everywhere! Sometimes even on the rooftops.
Enjoying a gourmet bloody mary (complete with applewood smoked bacon) at breakfast in Mobile while enjoying the music of a lively strings band
Airboating in the Everglades
The weird little eyeballs on the snails we found at the beach on Sanibel Island
Reaching the southernmost point of the contiguous 48 U.S. states in Key West
Notes and Insights
The humid heat in the South is real. Even in October. You quickly learn to welcome the rain with open arms.
Mobile, Alabama is a pretty neat port city. We had a good time walking around the Battleship Memorial Museum, but we decided it was too hot to stay and pay to walk on board the battleship. The gift shop was absolutely packed with people escaping the heat.
We're so glad we made time to try airboating. It was even more fun than we thought it'd be, and you get to go super fast!
We visited the southernmost point of the contiguous U.S. in Key West, Florida, but we'd later visit the southernmost point of the entire U.S. at South Point on Hawaii's Big Island, where I cliff jumped into the ocean.
Photo Gallery
All photos were taken by Ian and Diana with the Sony a7 II (Ian's camera), Sony RX100 III (Diana's camera — review here) and our smartphones.
Week 23 Preview
Oklahoma City, Oklahoma
Monument Rocks (Kansas)
Backpacking and sandboarding in Great Sand Dunes National Park, Colorado
Mexican Hat, Utah
Monument Valley Navajo Tribal Park, Arizona
I hope you enjoyed this U.S. road trip re-cap! In case you missed them, check out our other weekly recaps from our road trip. Have you road-tripped to any of these U.S. locations? Tell us about your trips in the comments.
For the latest news and photos from our travels, follow us on Facebook and sign up for our newsletter below!
[mc4wp_form id="9400″]